Colshaw Hall Wedding Photography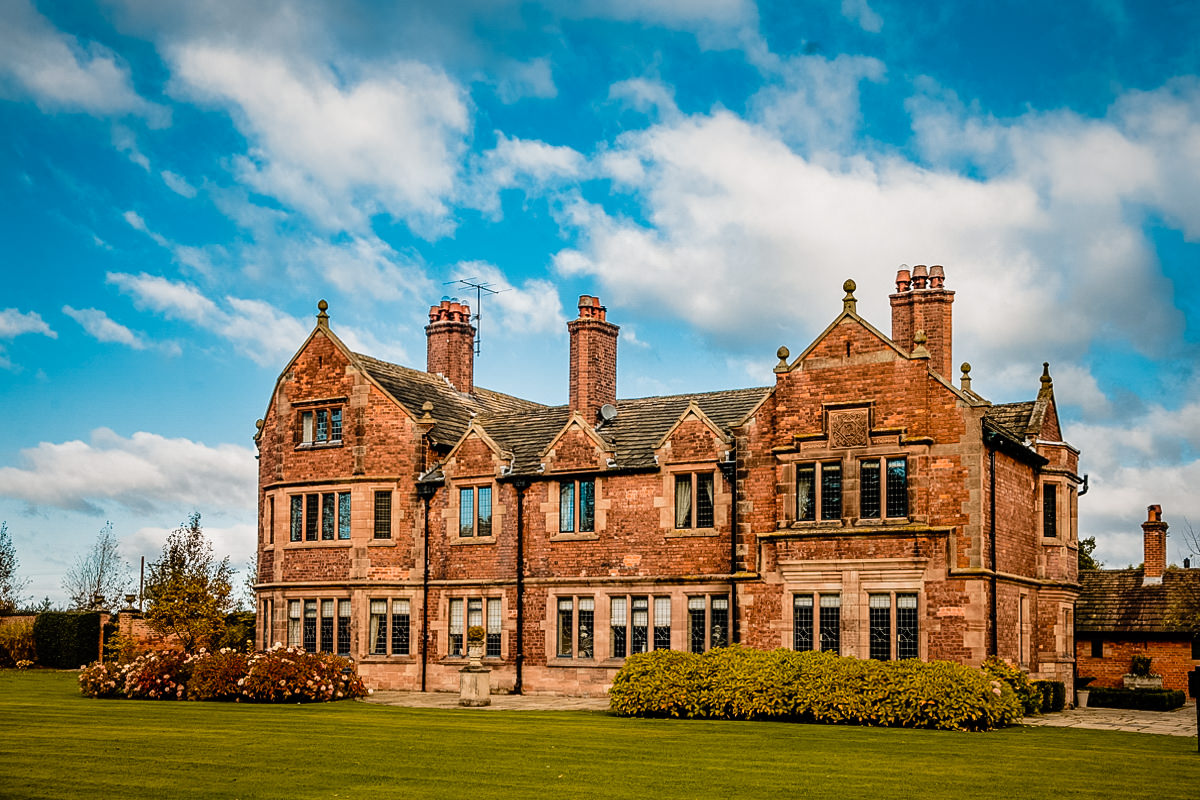 It is an absolute pleasure to be a Colshaw Hall wedding photographer. Being based in Cheshire ourselves this magnificent Cheshire Manor House and Country Estate is virtually on our doorstep in the heart of Cheshire's charming, rural landscape.
Weddings at Colshaw Hall
Colshaw Hall is an idyllic country manor estate and one of the best Cheshire wedding venues. The elegant Tudor style manor house is Grade II listed and is set in magnificent grounds in the heart of the Cheshire countryside. This luxurious venue was built in 1903 for the Peel family and is the Irlam family's former home. It has been lovingly restored into an idyllic wedding venue, with magnificent grounds and 300 acres of manicured countryside. Located in Over Peover, a beautiful village just on the outskirts of Knutsford, Cheshire. What's more, the estate always offers exclusive use to you throughout your wedding. From the moment you enter the gates and drive along the elegant driveway, you and your guests will know that this will be a day to remember.
Nothing is too much trouble for the team of wedding professionals both on and before your wedding day. The highly experienced team are amazing, working with you to make your day perfect and have the wedding day of your dreams.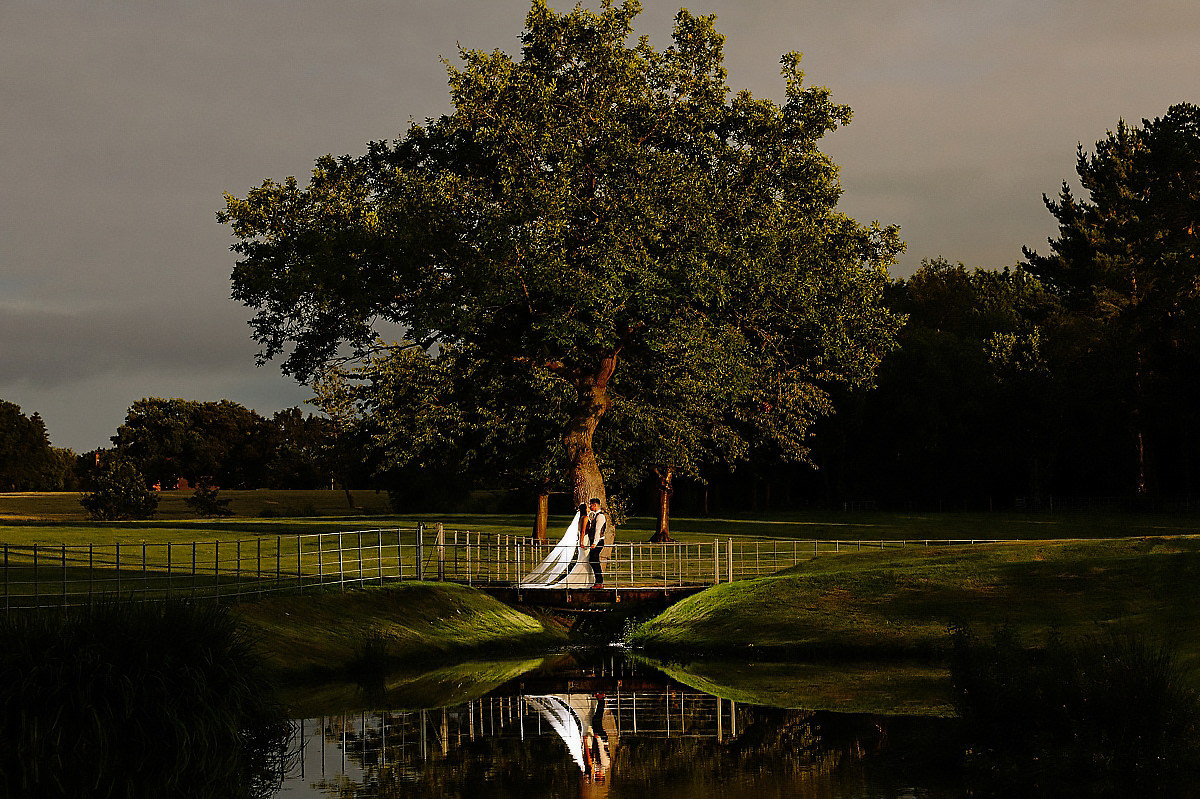 "The Jewel in the Crown of Cheshire wedding venues"
There are so many unique locations for your wedding photographs to be taken; in any number of spectacular locations around the Hall and within the grounds. The driveway and entrance, Japanese-style garden with a miniature lake, and Magnolia Gardens are just a few of the impressive and picturesque spots around the incredible grounds to help make your day perfect.
Colshaw Hall recommended wedding photographers
As a leading Cheshire wedding venue, the Finishing Touches team at Colshaw Hall is proud to offer a range of finishing touches designed for your special day. These are brought to you by their dedicated in-house team. SMH Photography is extremely proud to be one of the recommended photographers for Colshaw Hall and sister venue Merrydale Manor.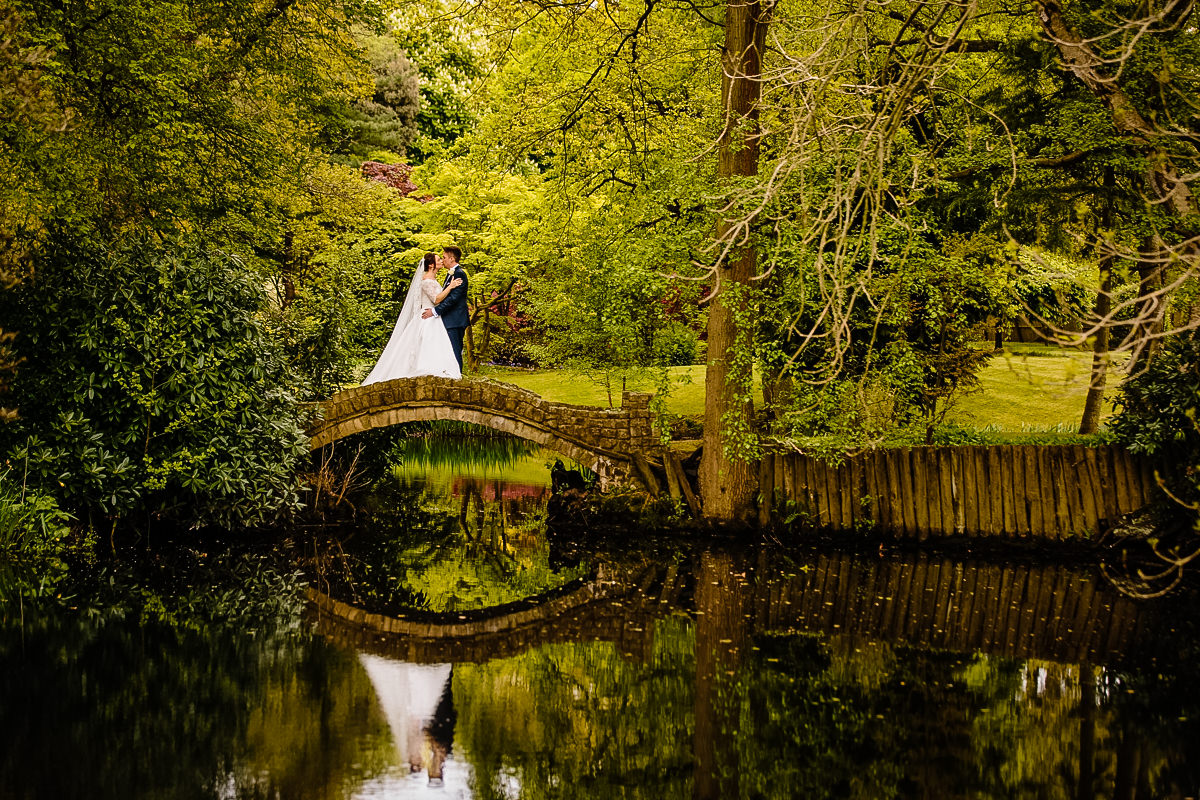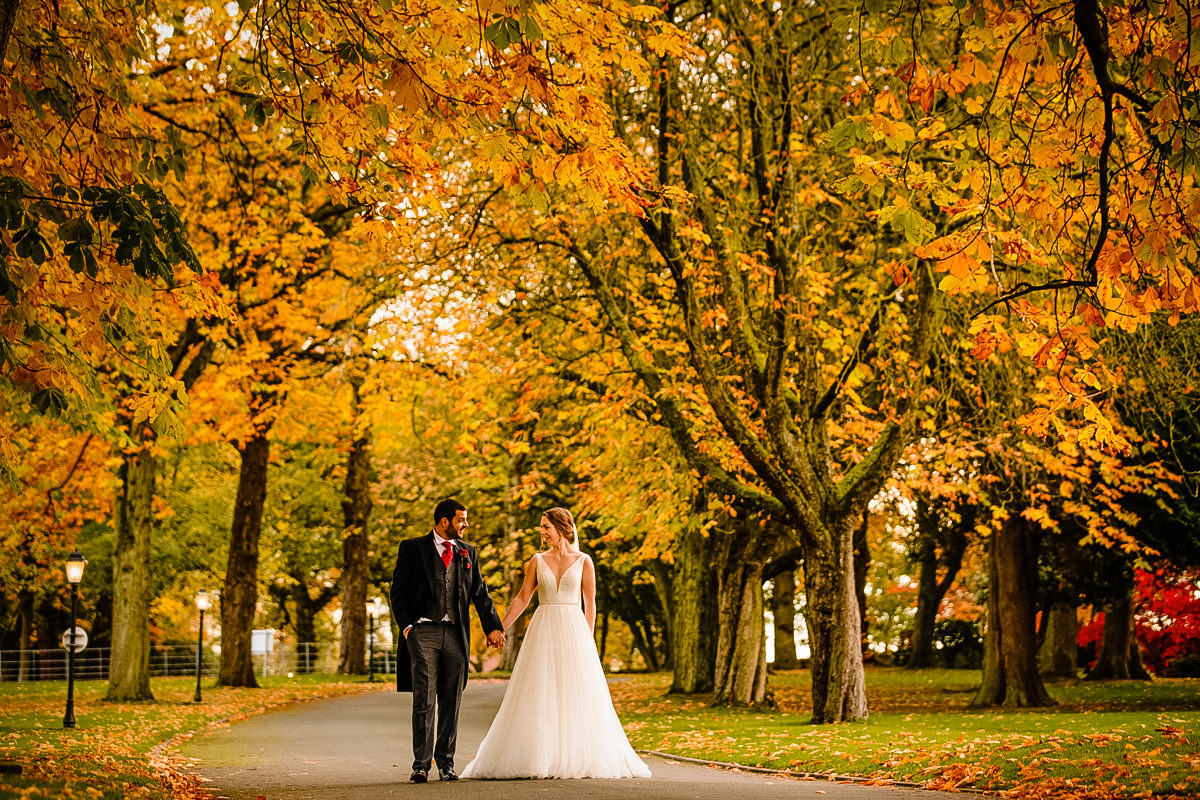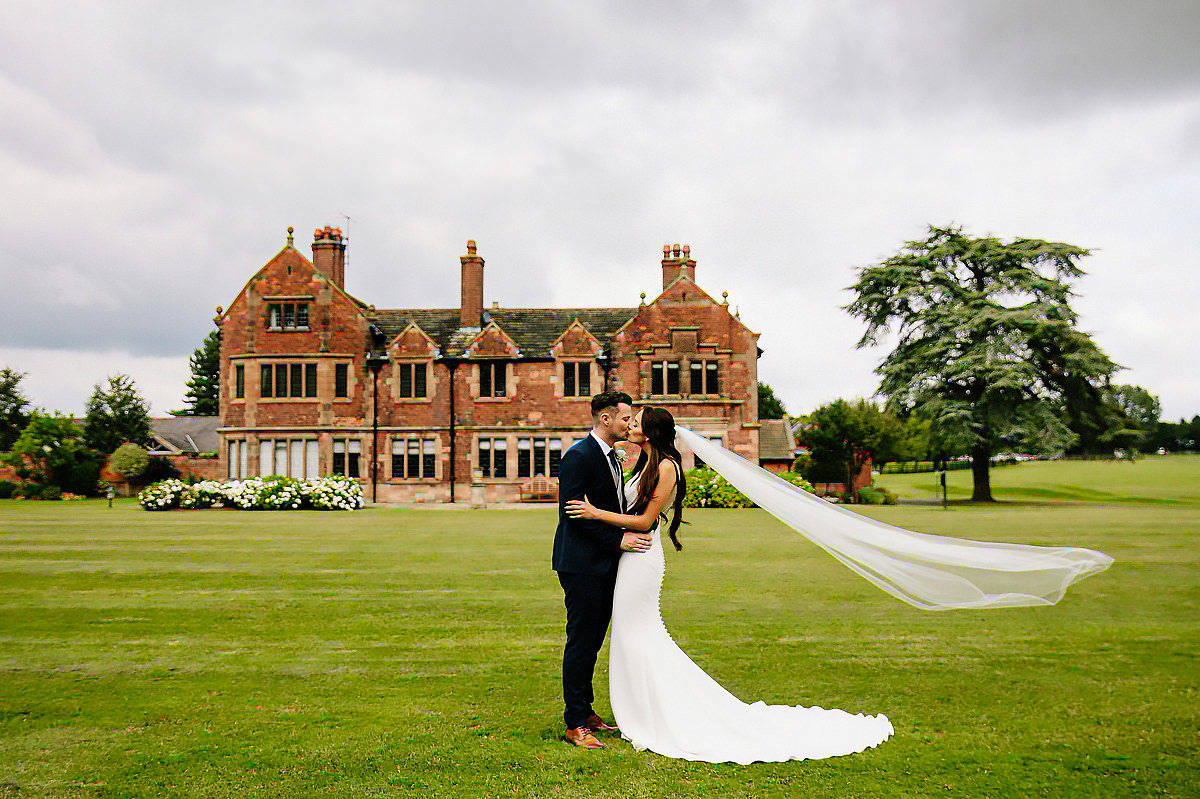 Experienced wedding photographers in Cheshire
As experienced Colshaw Hall wedding photographers, we love capturing weddings at one of Cheshire's premier and luxurious wedding venues. There are so many idyllic stunning backdrops for your wedding photographs that we really are spoilt for choice, including the walled garden, lake, fountain, Japanese garden, and sweeping tree-lined driveway, and of course the Hall itself. The Hall is the perfect backdrop for your perfect wedding photographs.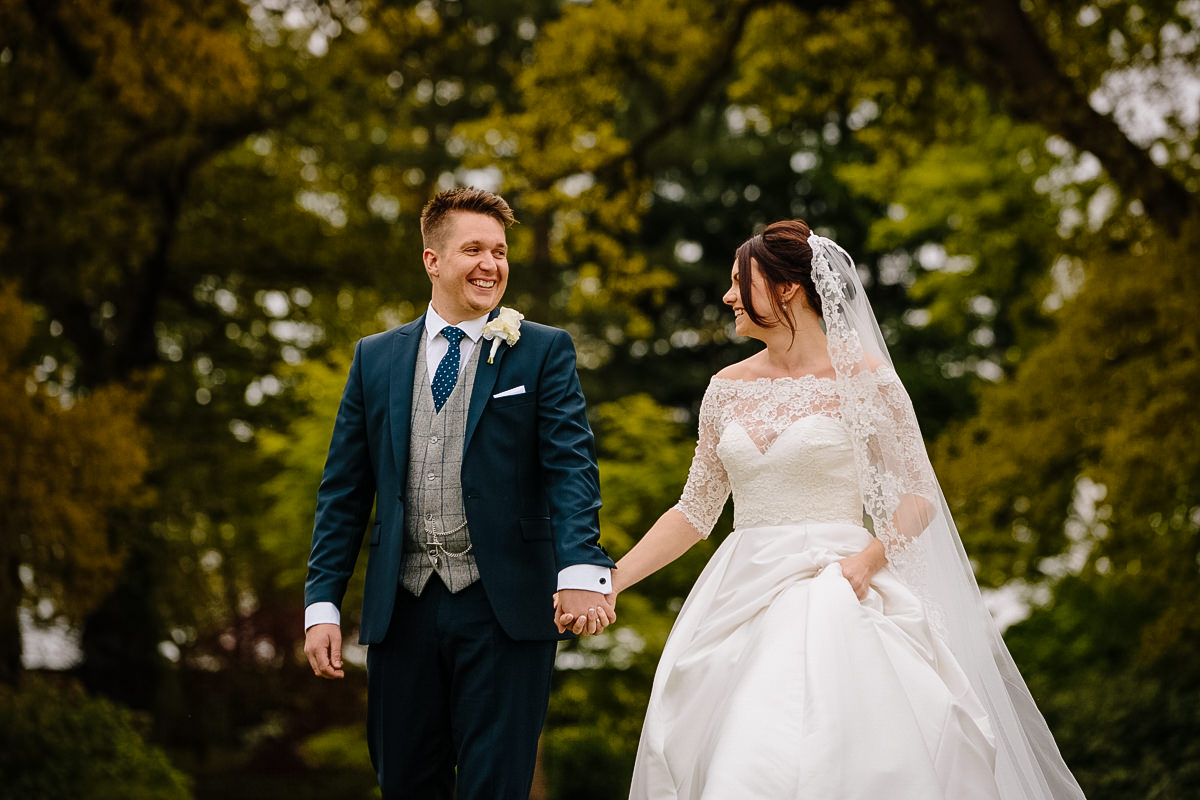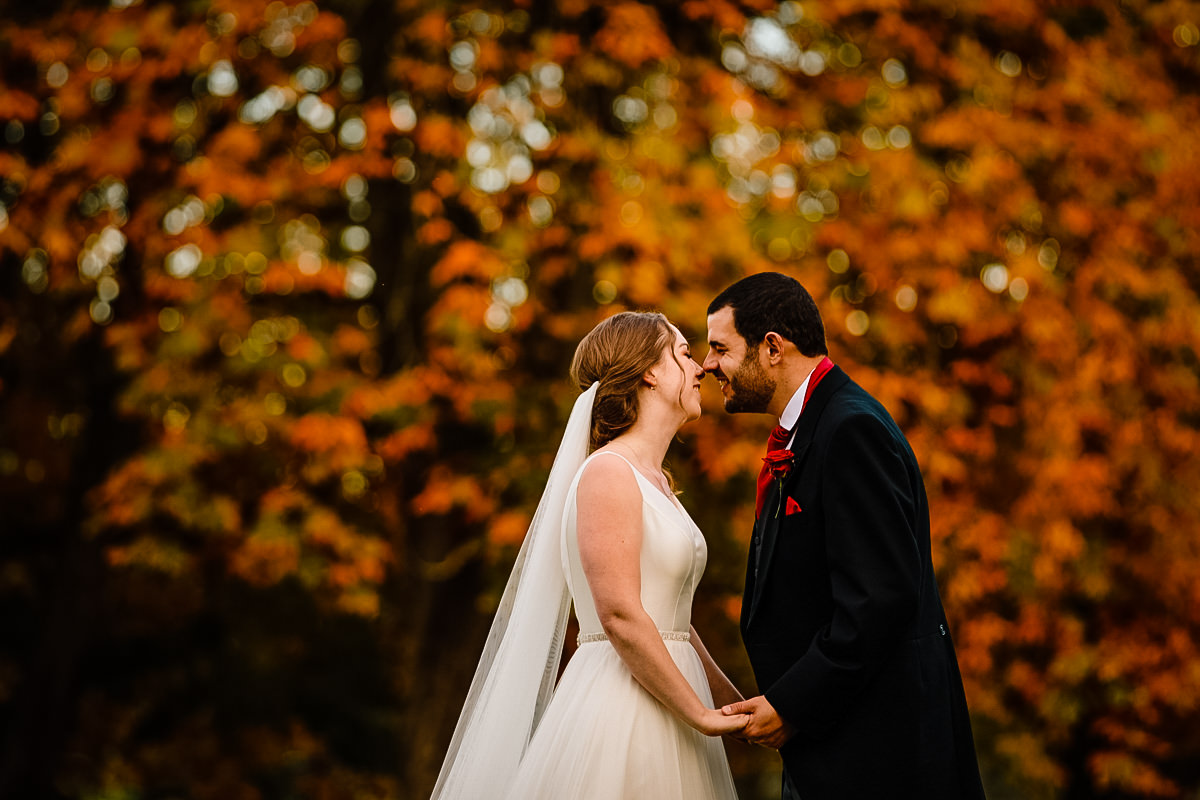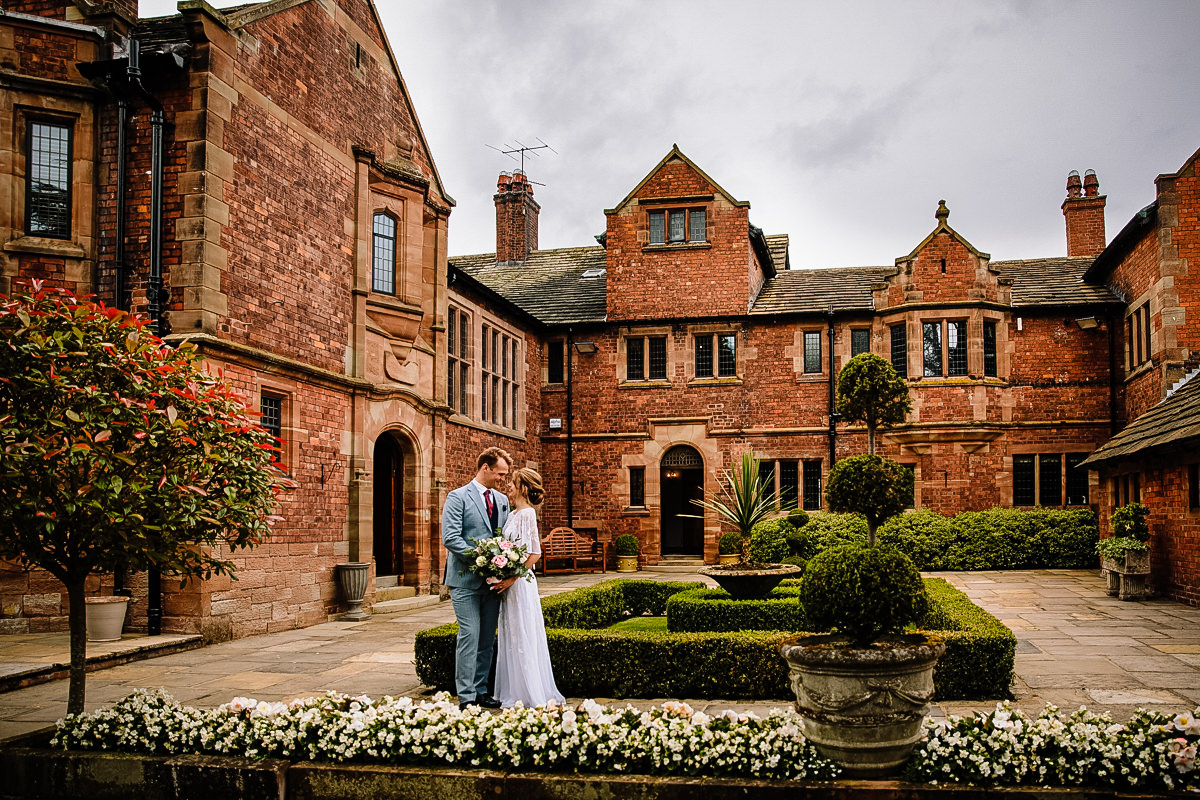 Your Ceremony
The Stables is a dedicated purpose-built ceremony space that can seat between 40-180 guests. This is a perfect location to tie the knot for both grand or more intimate ceremonies. The Stables ceremony room has beautiful exposed oak beams, leaded windows and stunning limestone floors. It looks just as beautiful with or without decoration; this really is the perfect setting for your dream ceremony.
Imagine taking your vows outside in a classically landscaped garden. This luxury Cheshire wedding venue also has stunning gardens perfect just for this. Licensed for civil ceremonies, both the Magnolia Garden and the Walled Garden are gorgeous and provide a stunning backdrop for your ideal wedding.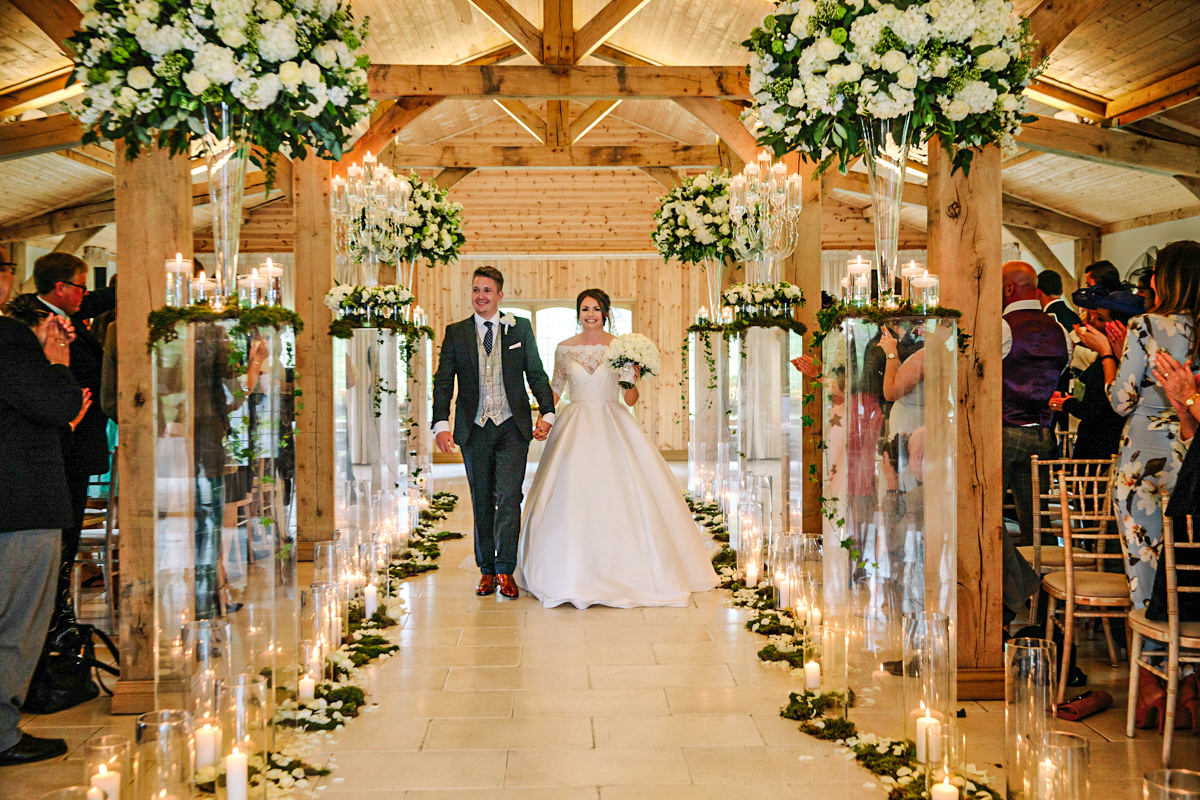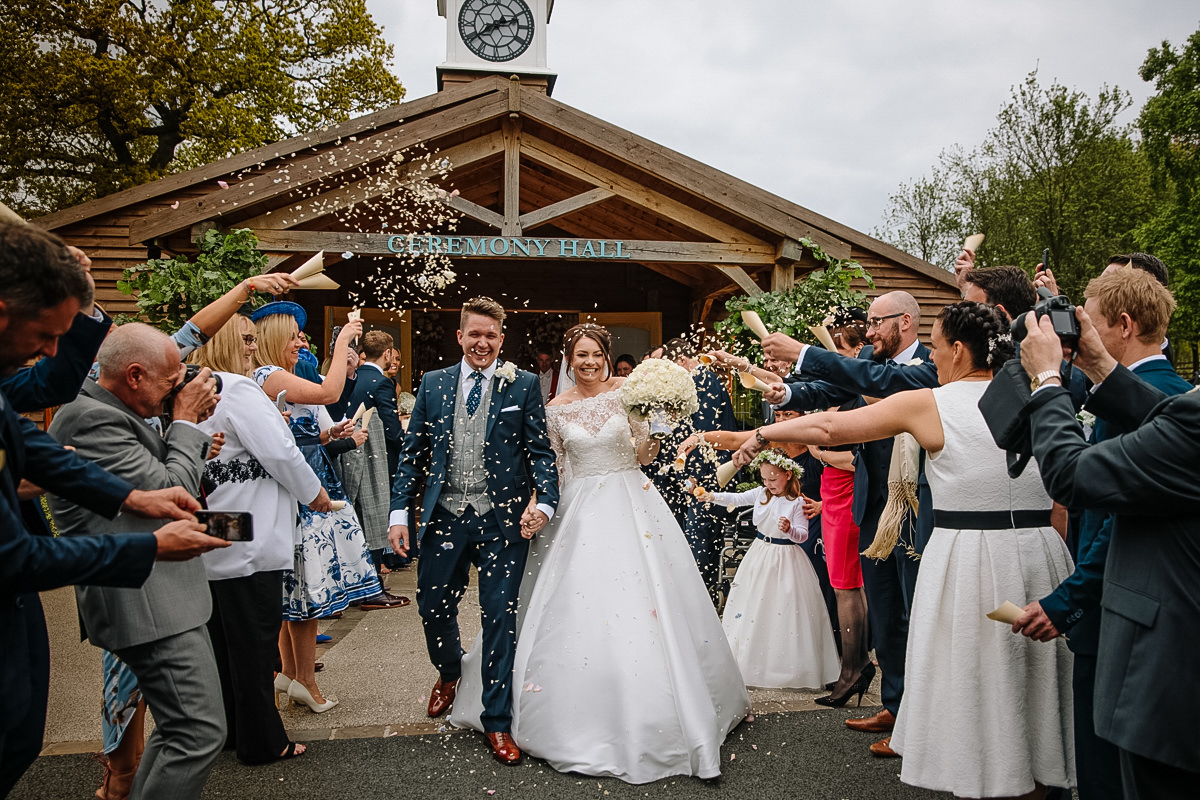 At both Colshaw Hall and sister venue, Merrydale Manor, the bride and groom walk down the aisle after the ceremony. Firstly they are led out of the Stables ceremony room by the very talented and well-organised Master of Ceremonies. Meanwhile, this also allows the wedding guests to exit the room and form two lines outside the doors. The bride and groom then get to greet their guests, who are excited to shower them with confetti.
Your wedding reception and wedding breakfast
After the ceremony and confetti at the Stables, and after all your guests have congratulated the newly married couple; the bride and groom followed by their guests then can make their way over to the Pavilion area. The perfect space for your drinks reception. This then leads out onto the walled gardens for you and your guests to enjoy.
Your wedding breakfast is then served in the incredible Peel suite. Offering your guests a memorable wedding meal in the most luxurious surroundings. And of course, such a luxurious venue is fully air-conditioned to create the perfect setting for your special day. Light floods in through the magnificent windows throughout the day which line either side of the wedding suite. Giving you stunning views of the surrounding grounds. In addition, you also get a fantastic toastmaster included.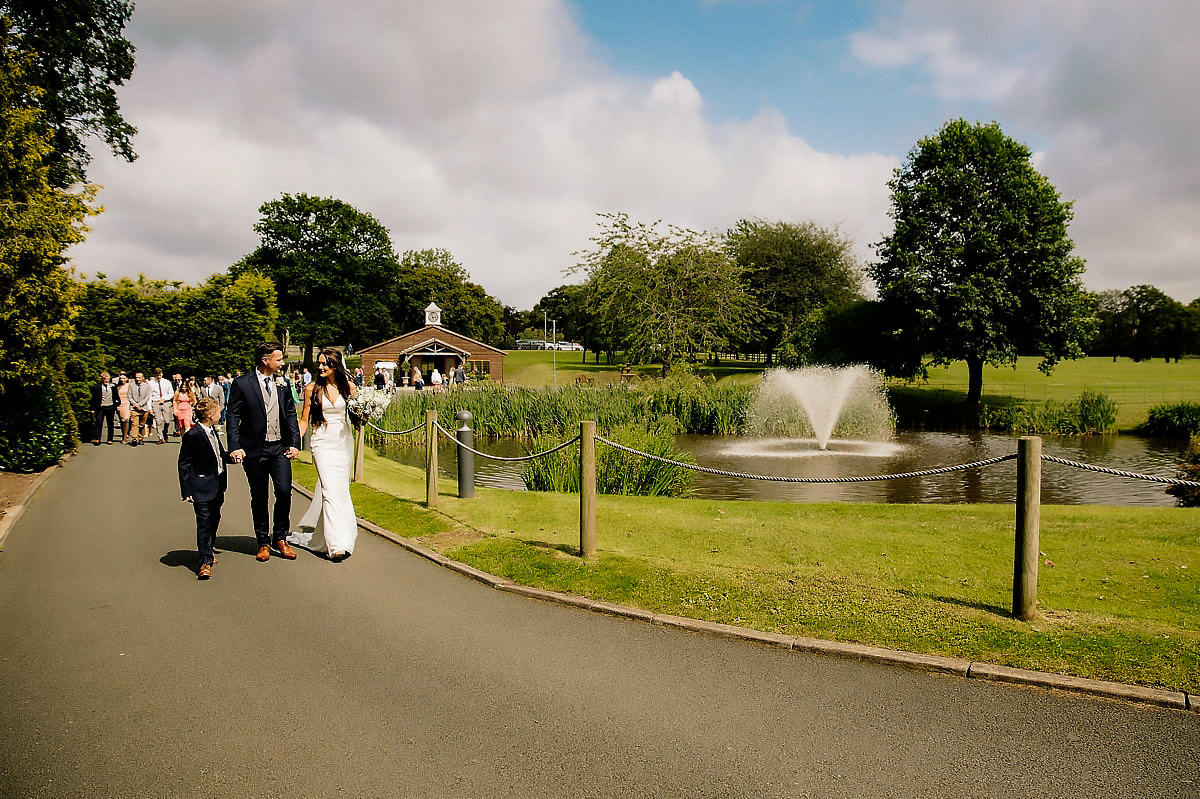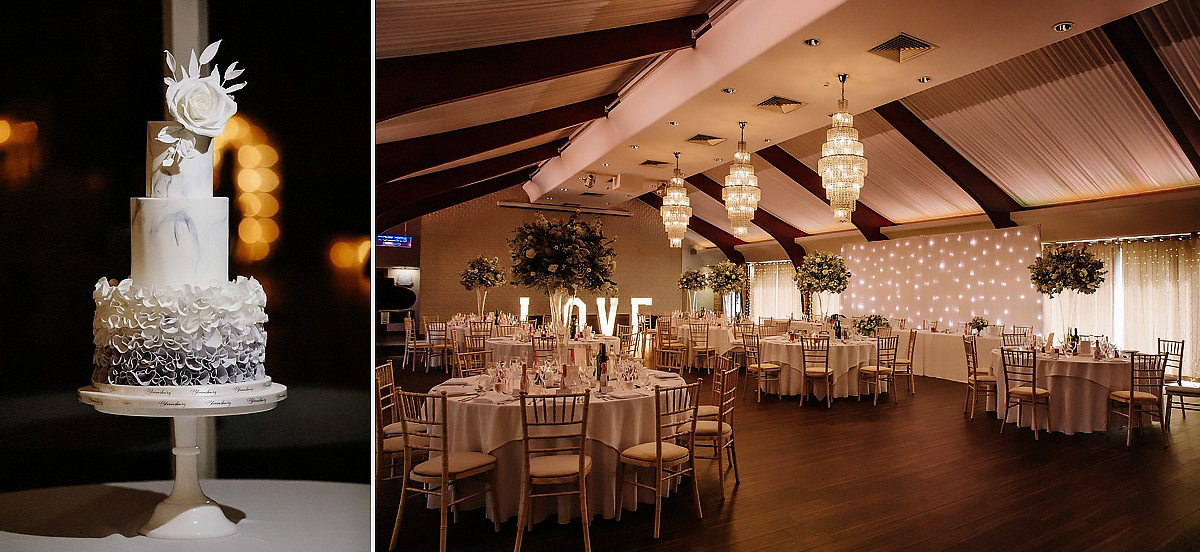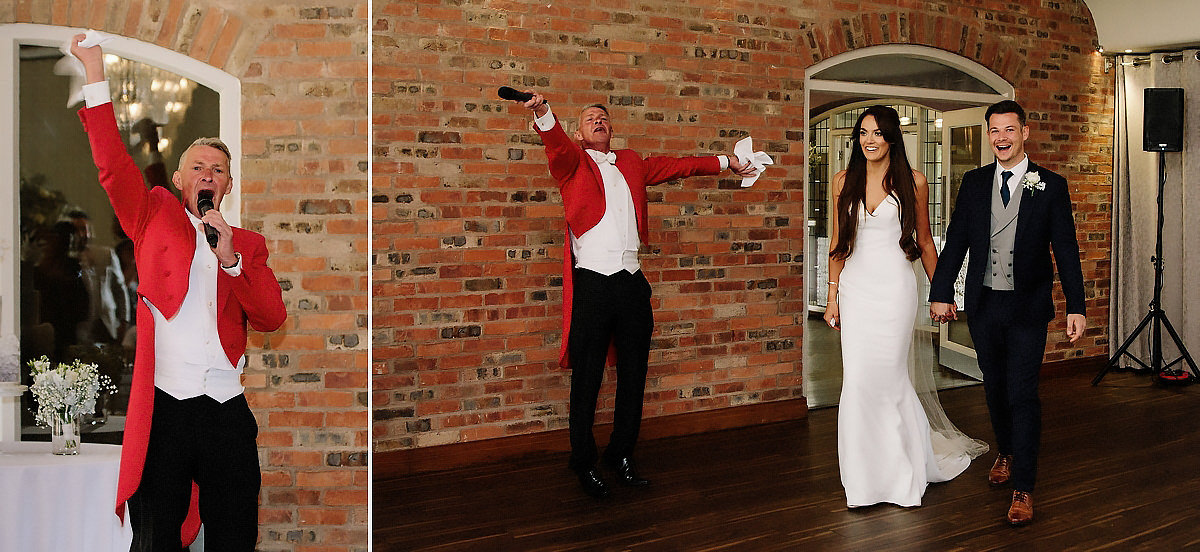 Your evening – the party of a lifetime
By the time the wedding meal is over, the Peel suite is completely transformed, and now your wedding evening celebrations take place. This is an ideal setting and is the time to party the night away with your loved one and guests as the sun sets over the beautiful Cheshire grounds.
Colshaw Hall really is one of Cheshire's exclusive luxury wedding venues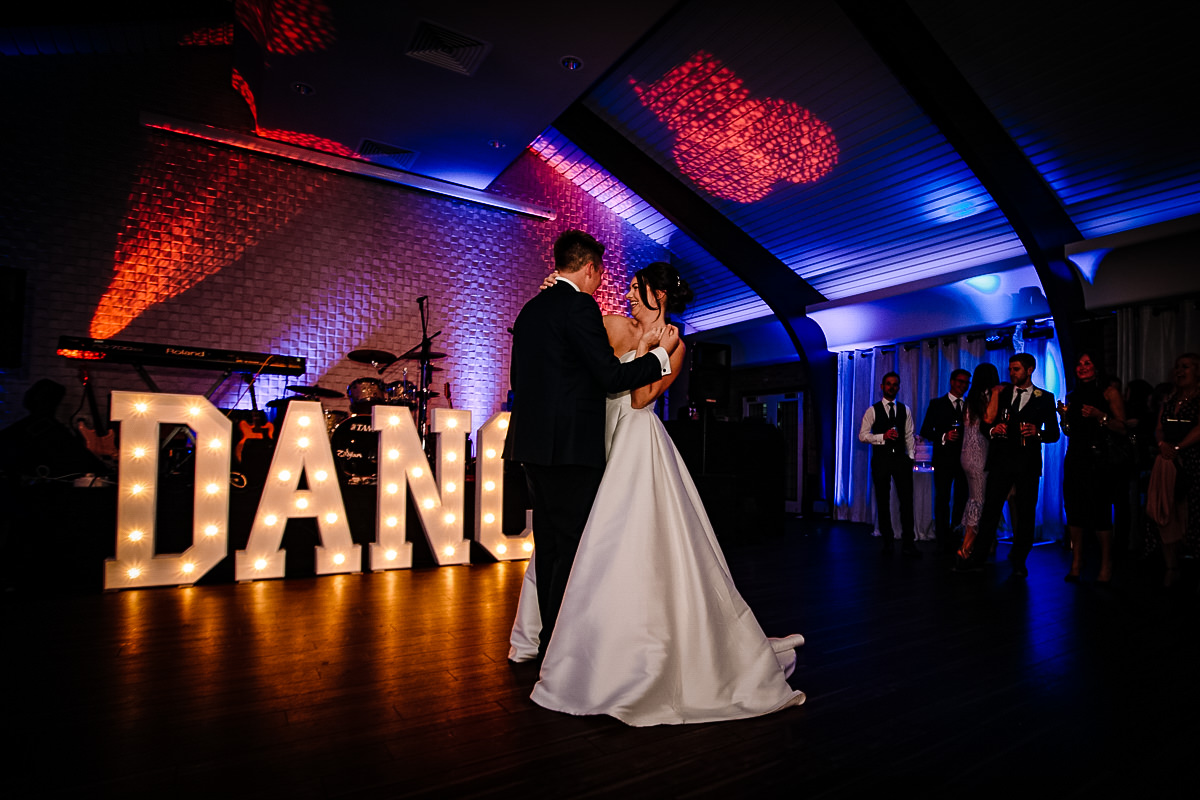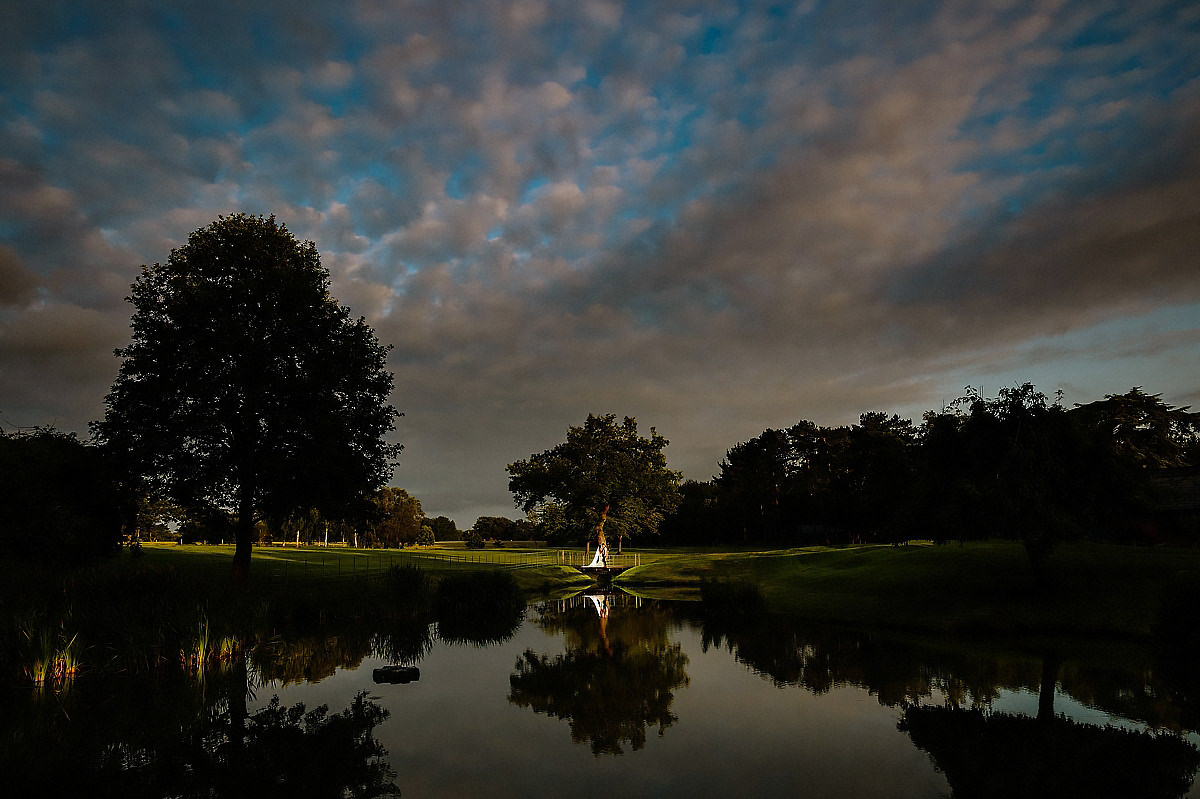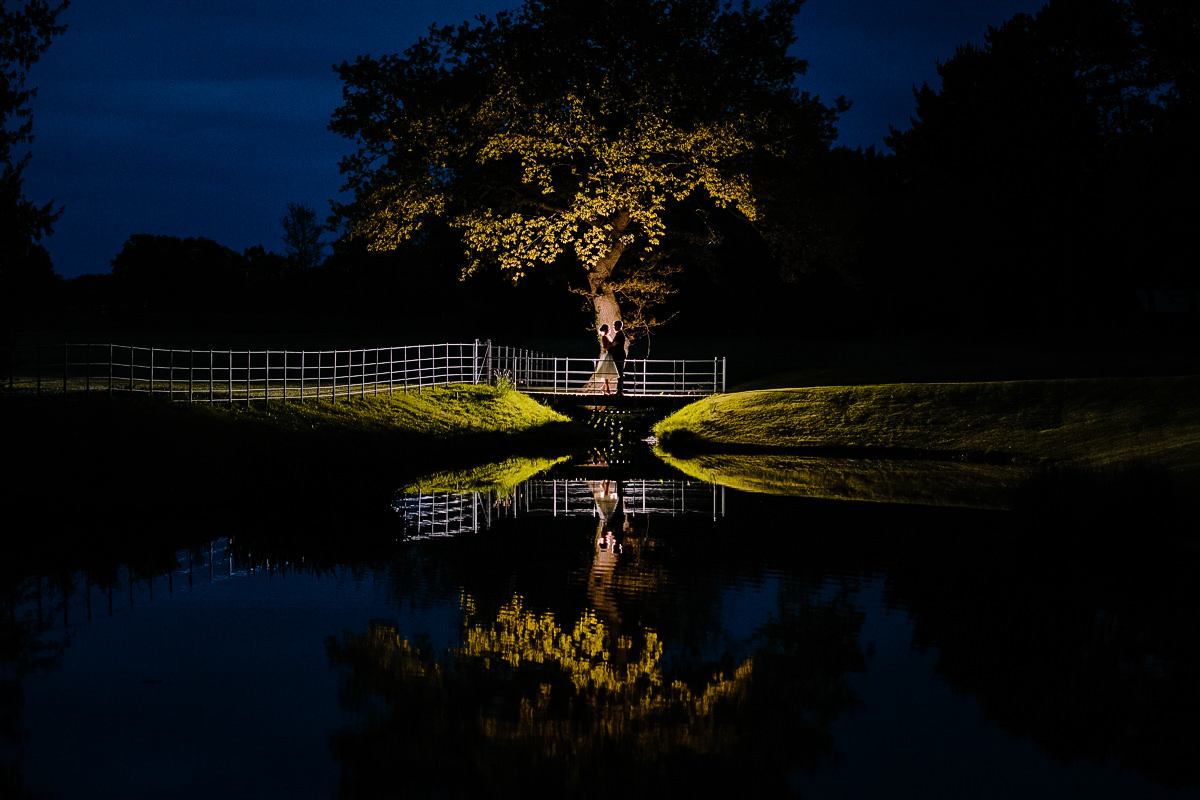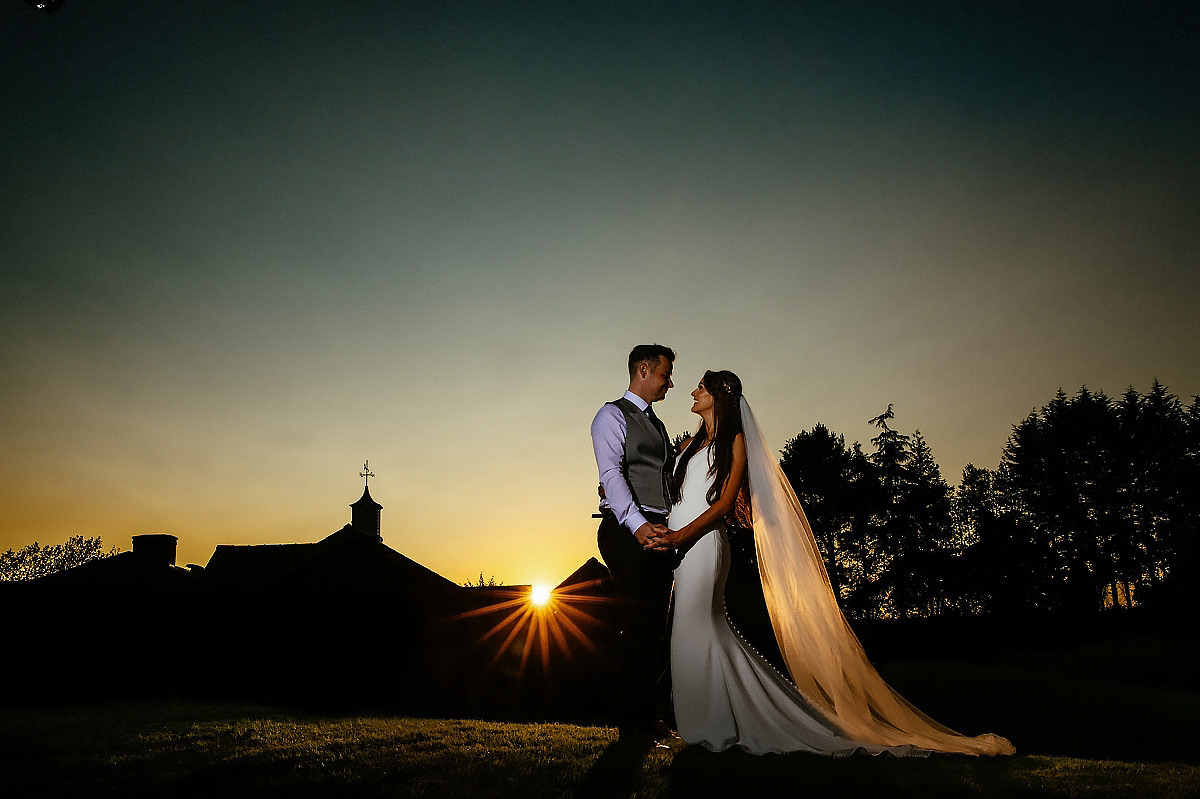 Featured Weddings at Colshaw Hall
Accommodation at Colshaw Hall
This stunning family-run country estate offers the ultimate in convenience and luxury for you on your big day. The spectacular Tudor style manor house features grand fireplaces, elegant decor, and large mullioned windows offering exquisite views of the grounds from every angle.
The Hall offers seven magnificent double bedrooms with three reception rooms and accommodation for up to fourteen people, each with generous dressing areas and ensuite bathrooms. All bedrooms were completely refurbished at the end of 2018
The Irlam Lodge is the newest addition to this Country Estate, one of Cheshire's most exclusive luxury wedding venues. The Irlam Lodge is recently newly refurbished and sleeps up to 4 guests. It can be booked the night before or after your wedding.
For the Bride & Bridesmaids
The bridal suite (or Master David) named after the owner David Irlam. This room possesses the best views of the grounds, lavish golden decor, and an outstanding bathroom with deluxe bath and shower facilities disputably. The bridal suite complete with its own private dressing room is the perfect location for the bride and her bridesmaids to get ready on the wedding morning.
From a wedding photographer's perspective, this room is perfect as it offers lots of natural light from the large framed windows. This is wonderful for gorgeous bridal portraits before you get married. Also ideal for capturing stunning natural photos and capturing all the excitement of your bridal preparations.
For the Groom and Groomsmen
New for 2020, The Den! The Den is the perfect place for the groom and groomsmen. It's located next to the Stables ceremony room and is the perfect place to relax beforehand. This room also features table tennis, table football, and a widescreen TV. There's even substantial space to change before the ceremony if you wish to.
Further Accommodation
Along with the rooms in the main hall, they also offer further accommodation. Situated near the hall itself four Courtyard Cottages sleeping up to 14 guests; the Courtyard Cottages are superb. Alternatively, your guests can stay in one of their fabulous Eco Lodges. Each of the Eco Lodges sleeps, 2 people.
More Helpful Tips – Hotels near Colshaw Hall
If you are looking at alternate accommodation, Knutsford and Northwich's nearby towns offer accommodation ranging from four-star hotel and spas to upmarket pub accommodation and boutique B&B's plus a host of holiday lets and Airbnb properties. Alternatively very close by:
Directions to Colshaw Hall
Colshaw Hall
This stunning North West wedding venue is easily accessed by car, bus or train, and there is plenty of on-site car parking available for your wedding guests. The full address is:
Colshaw Hall Country Estate
Stocks Lane
Over Peover
Cheshire
WA16 8TW
Event Planning Service
Also based on site are Irlam Warburton Events. They are a luxury wedding planning service in Cheshire. We are also proud to have been recommended by Irlam Warburton Events to photograph couples' weddings.
This really is one of Cheshire's exclusive luxury wedding venues. But don't just take our word for it. The most fun thing about planning a wedding is that you get to visit beautiful venues in stunning locations. So, go on, take a look!
And when you've found that perfect Cheshire wedding venue, you'll be looking for the perfect Cheshire wedding photographers.
Feel free to give us a shout. We'd love to hear about your wedding plans.
Have a look at our FAQ for more information and how we work by looking at our style page.
You can also find out more about us here.