PECKFORTON CASTLE WEDDING PHOTOGRAPHY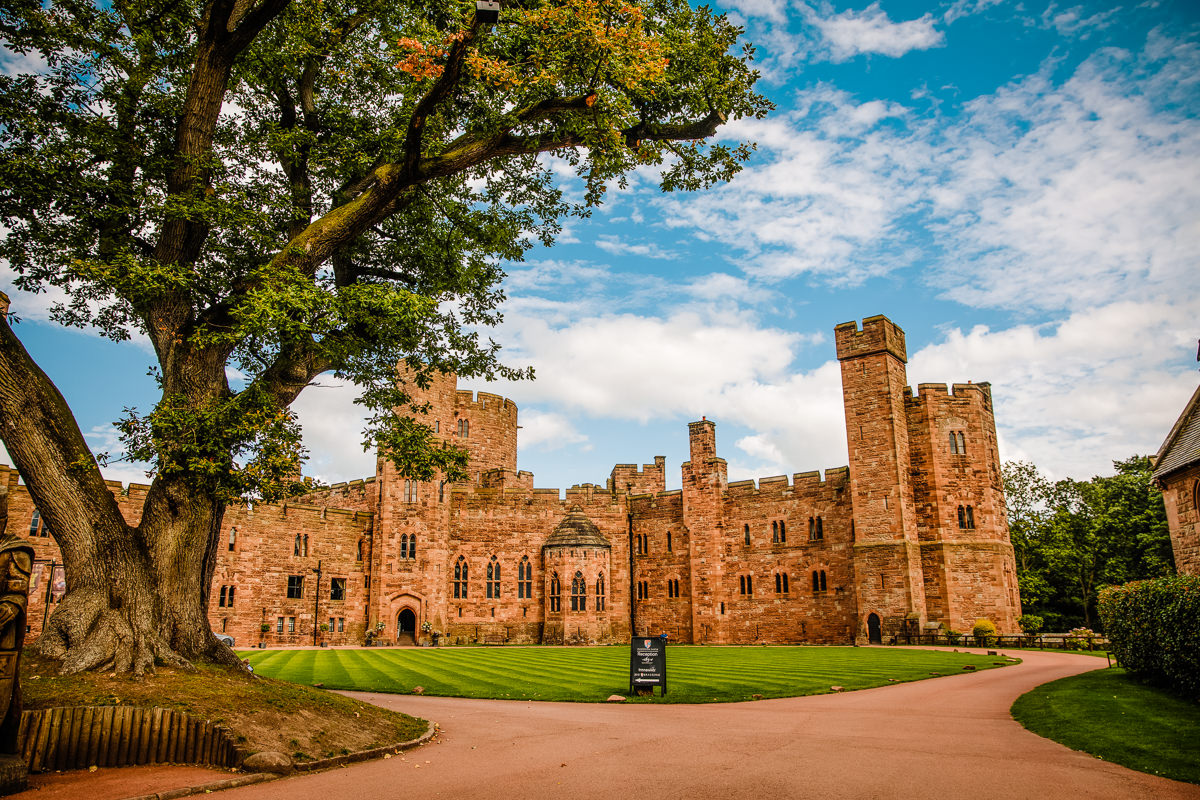 It is a complete pleasure to be a Peckforton Castle wedding photographer. Based in Cheshire ourselves, this magnificent Cheshire Castle is effectively on our doorstep in the stunning heart of Cheshire's charming, rural landscape.
Wedding Photography at Peckforton Castle
If a castle wedding is something you've always dreamed of, you should definitely look at the majestic Peckforton Castle near Tarporley in the stunning Cheshire countryside. It is a fairy tale castle historically and architecturally rich with red sandstone walls, marble floors, vaulted dining rooms, and open fires. Originally the home of Lord Tollemache and built in the early 19th century on the top of Peckforton Hills. Peckforton Castle is the only intact medieval style Castle in the country and is now owned and lovingly cared for by the Naylor family. All set against the stunning rural backdrop of the beautiful Cheshire countryside. It's no wonder we always love returning for wedding photography at Peckforton Castle.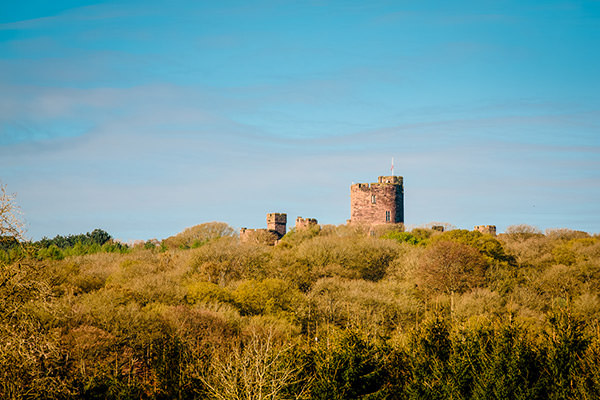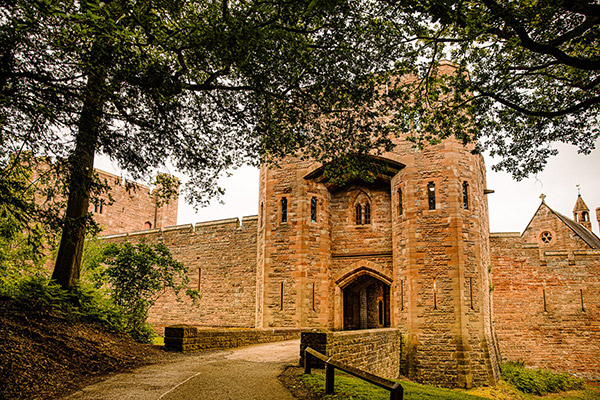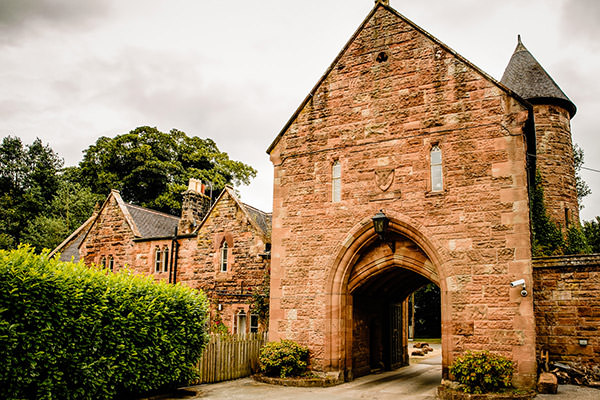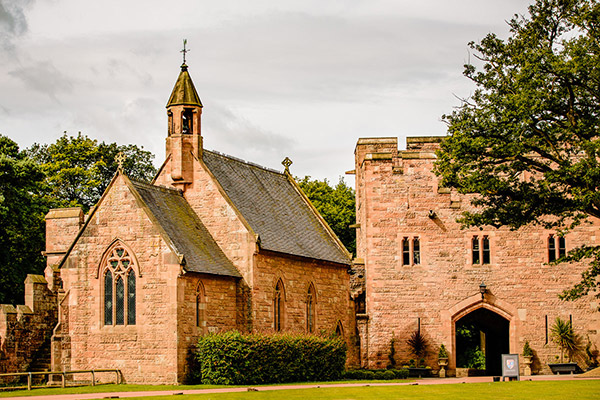 Even your arrival at Peckforton Castle for your wedding will leave you feeling special as you enter through the gatehouse lodge, along a sweeping driveway through the forest. Before arriving at the drawbridge. You then get your first glimpse of this spectacular medieval castle immersed in romance, history and awe-inspiring beauty. This is a truly magical fairy tale Castle to hold your wedding and wedding breakfast. We absolutely love being able to photograph weddings at this spectacular wedding venue.
"After photographing numerous weddings at Peckforton Castle, you can be confident you will cherish your gorgeous wedding photographs forever"
ENDLESS OPPORTUNITIES For WEDDING PHOTOGRAPHY at Peckforton Castle
There are so many stunning backdrops for your photographs at this stunning castle, regardless of the weather. As experienced Peckforton Castle wedding photographers, we know all the secrets of taking the best photographs in all seasons. There are many photographic opportunities outside with the castle's grandeur, drawbridge, or surrounding forest and grounds. Alternatively, inside the castle the incredible architecture in all of the rooms, the stone staircase, and the iconic large stained-glass window in the Great Hall. This really is the perfect year-round luxury wedding venue.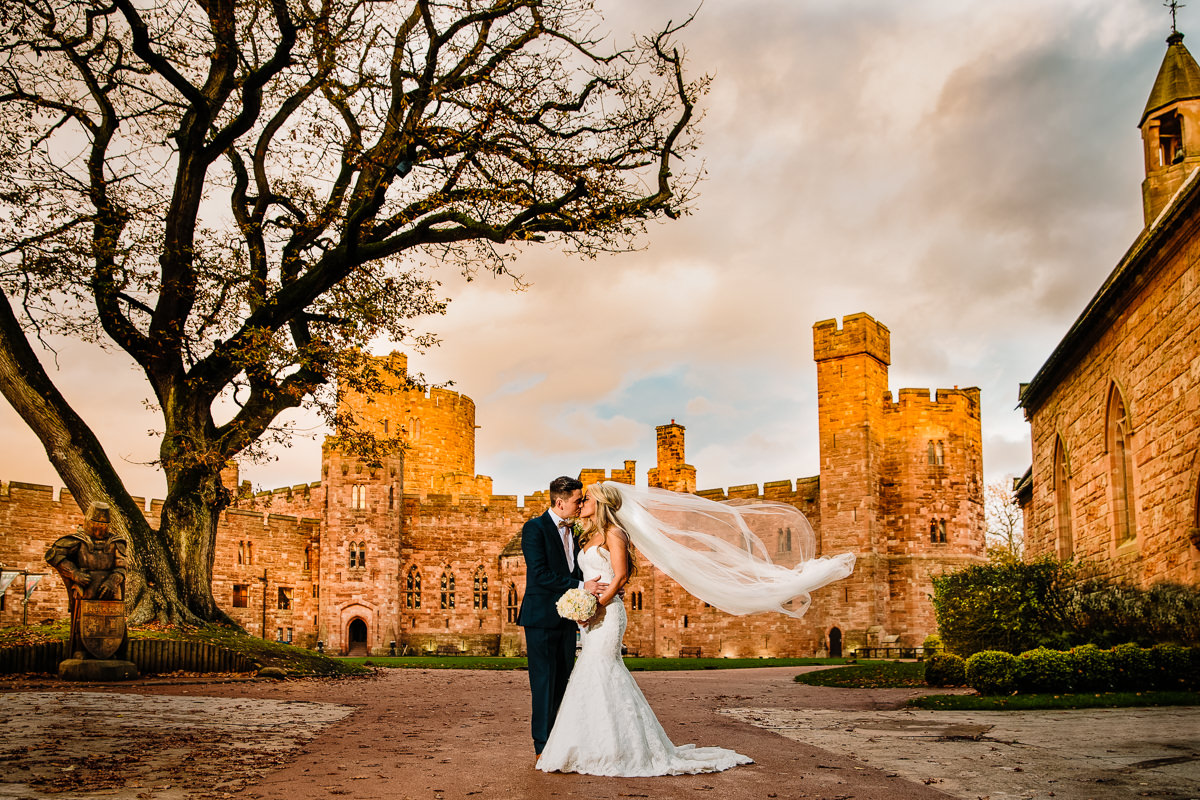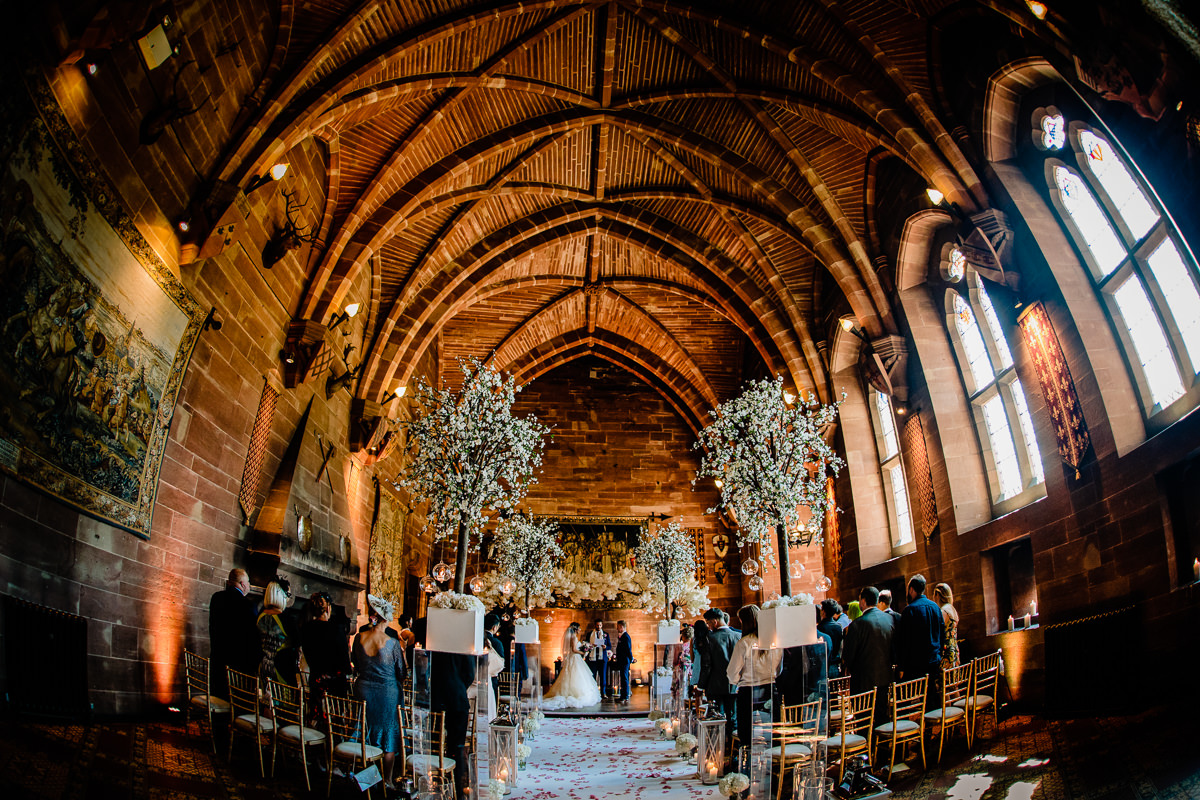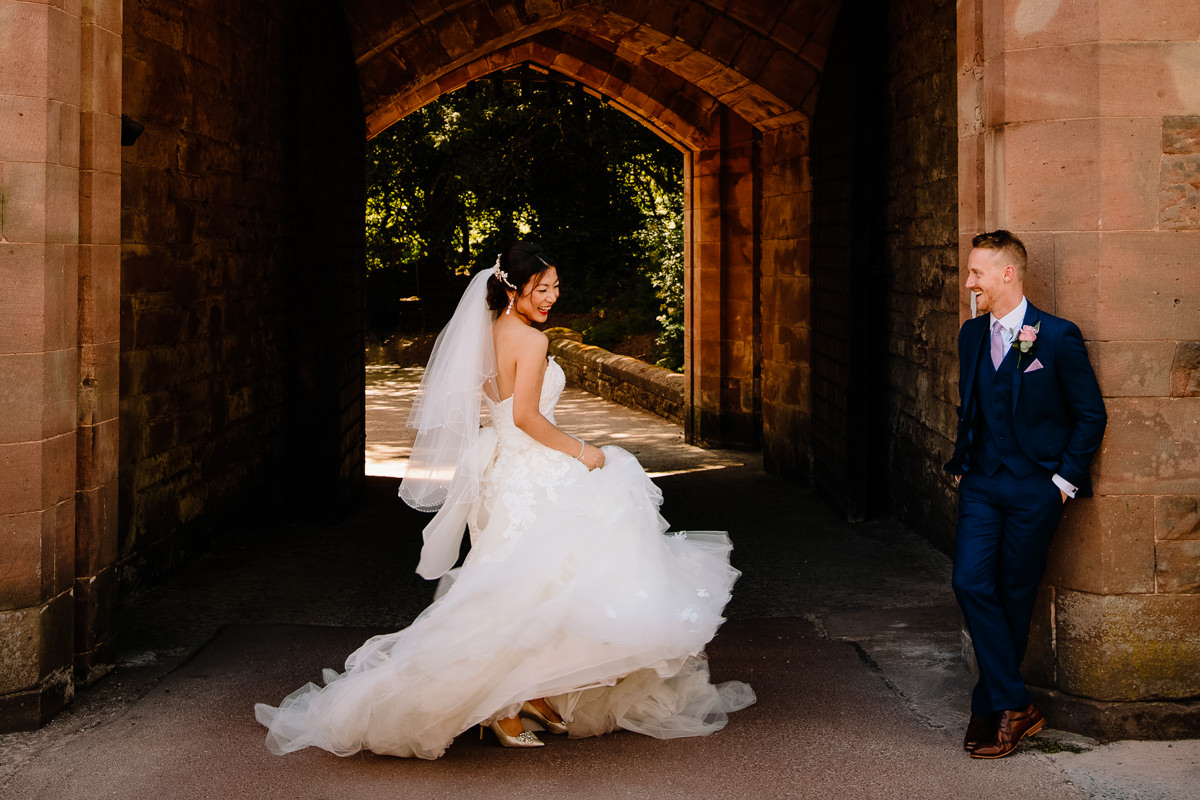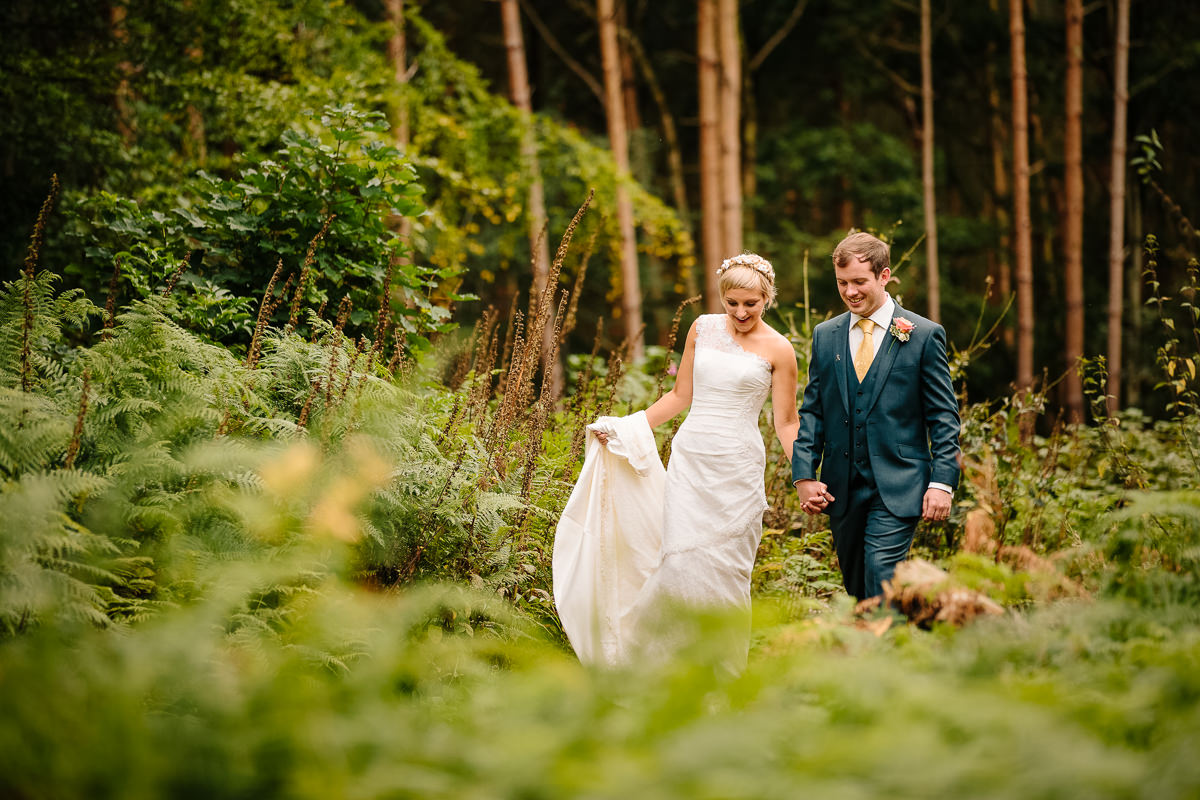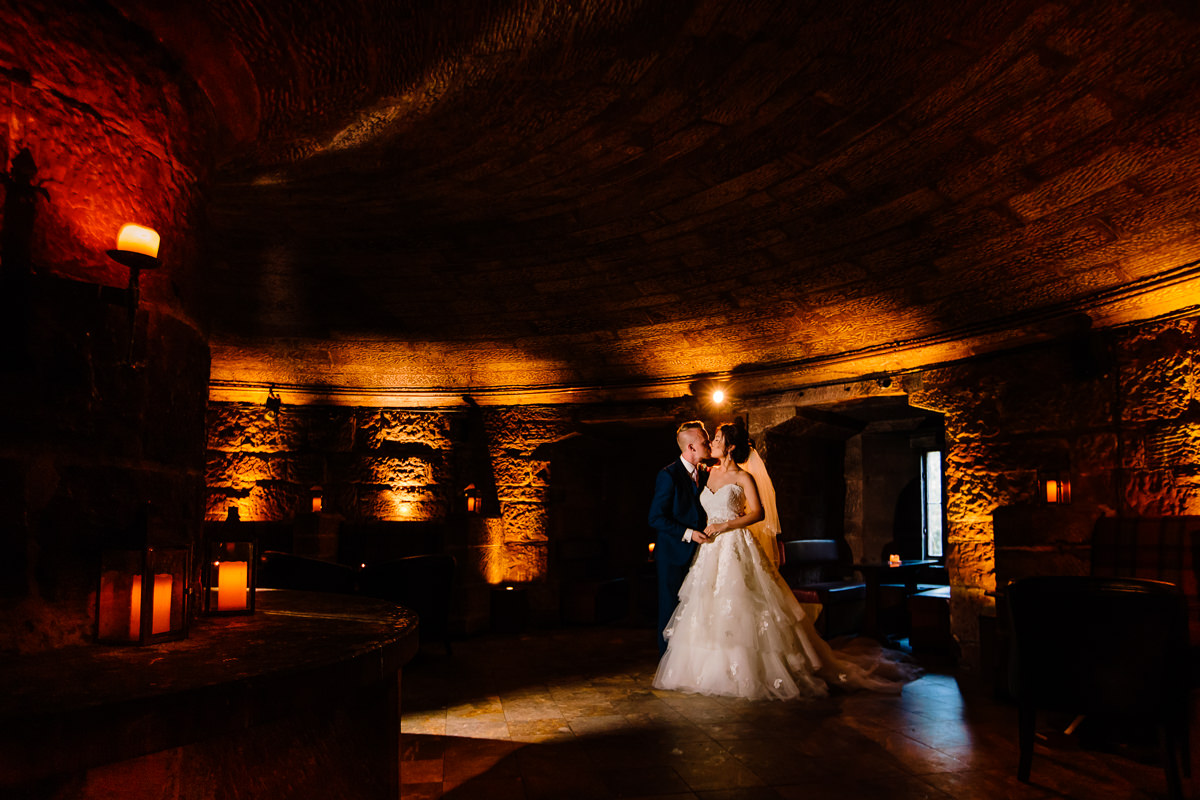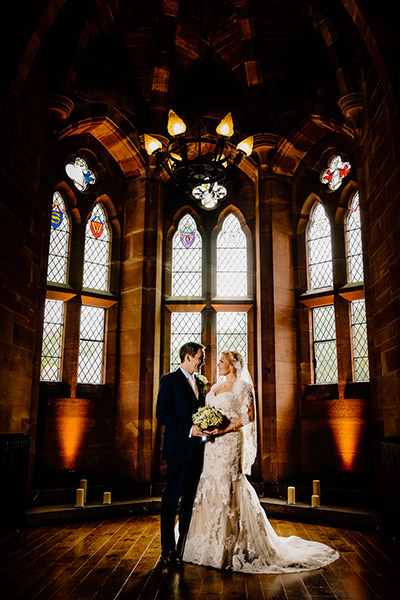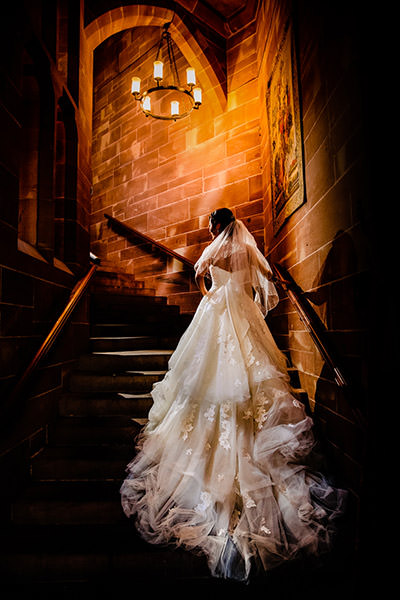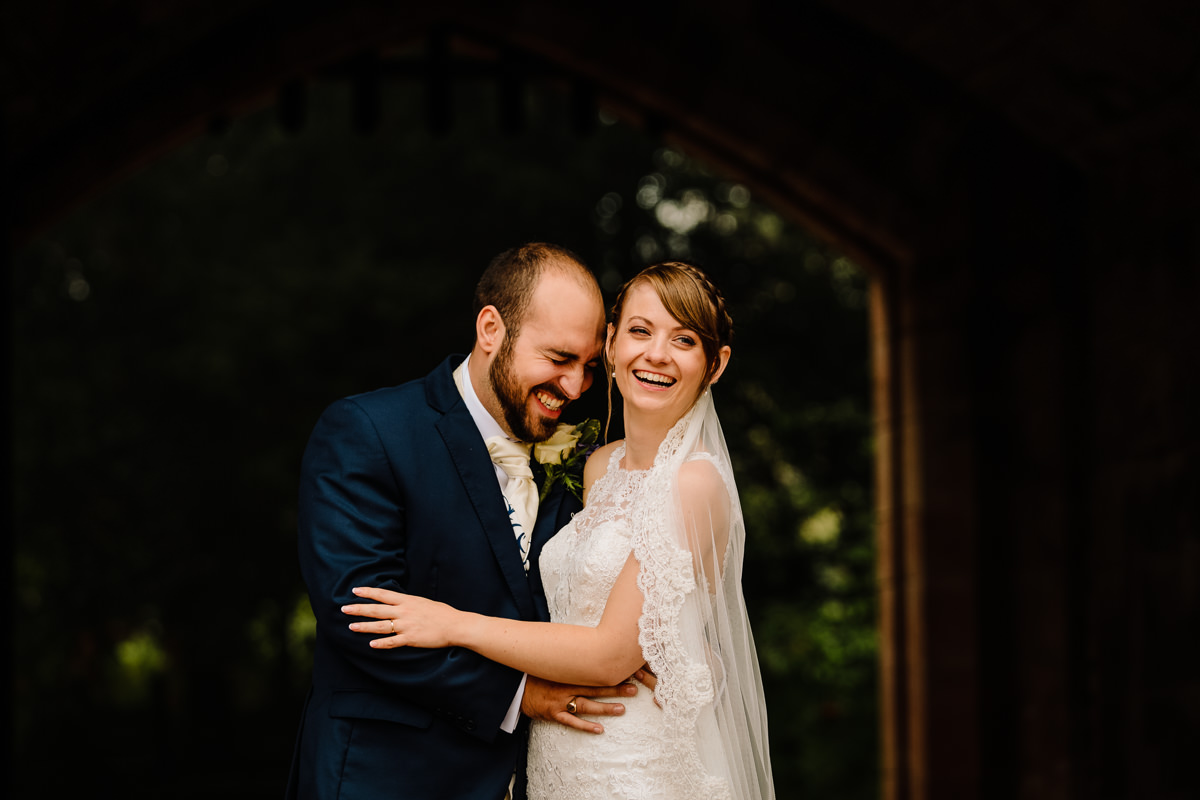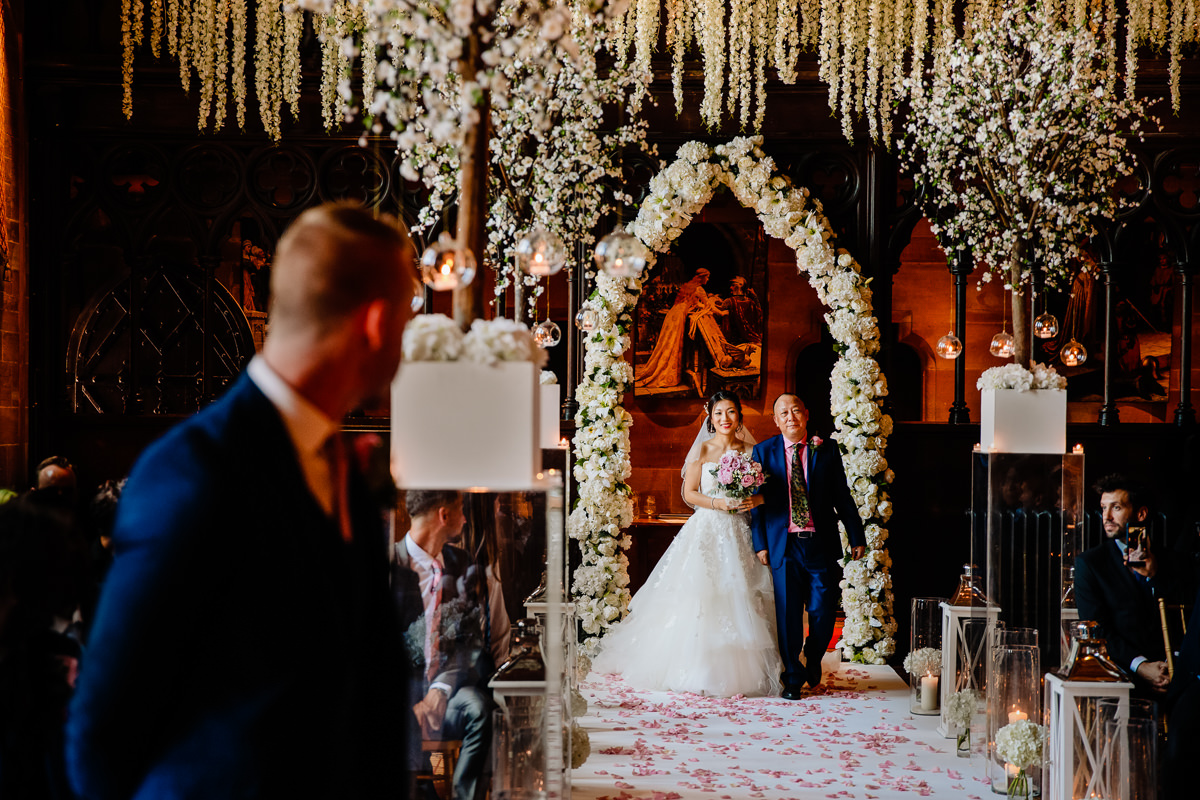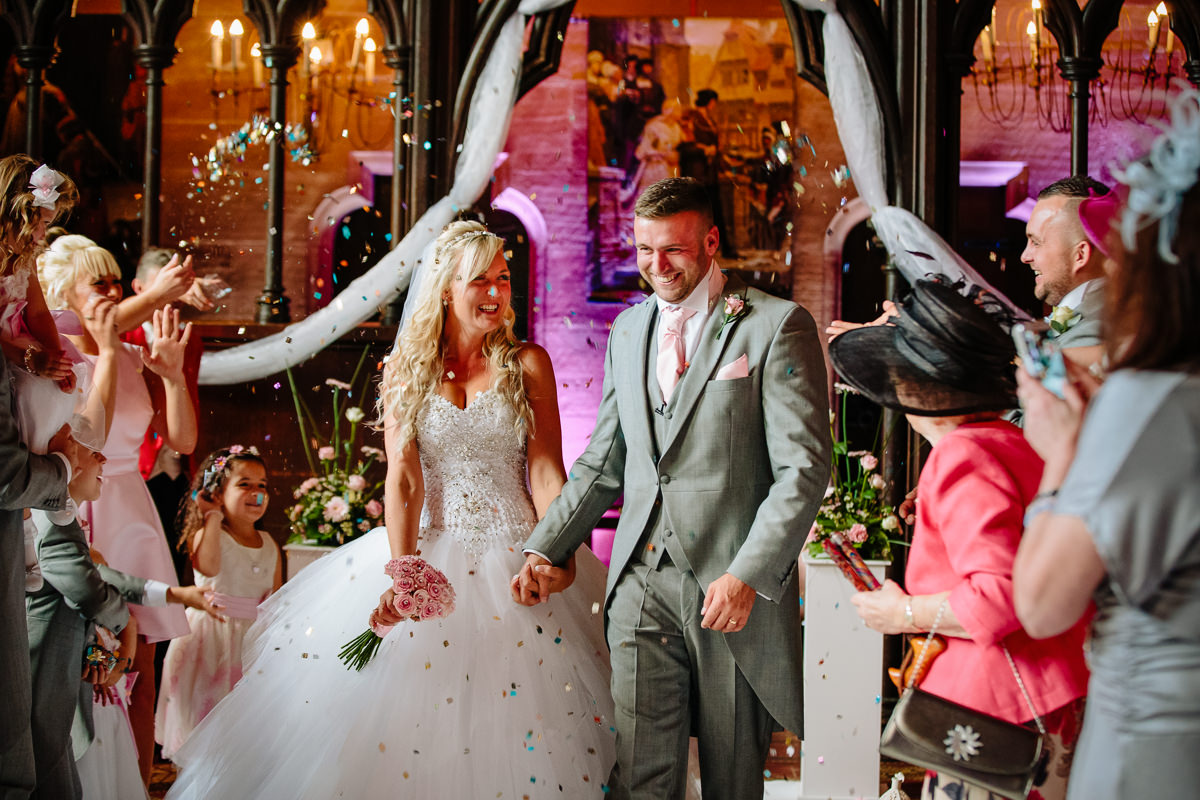 "The dedicated team at Peckforton Castle will work with you to create your perfect day"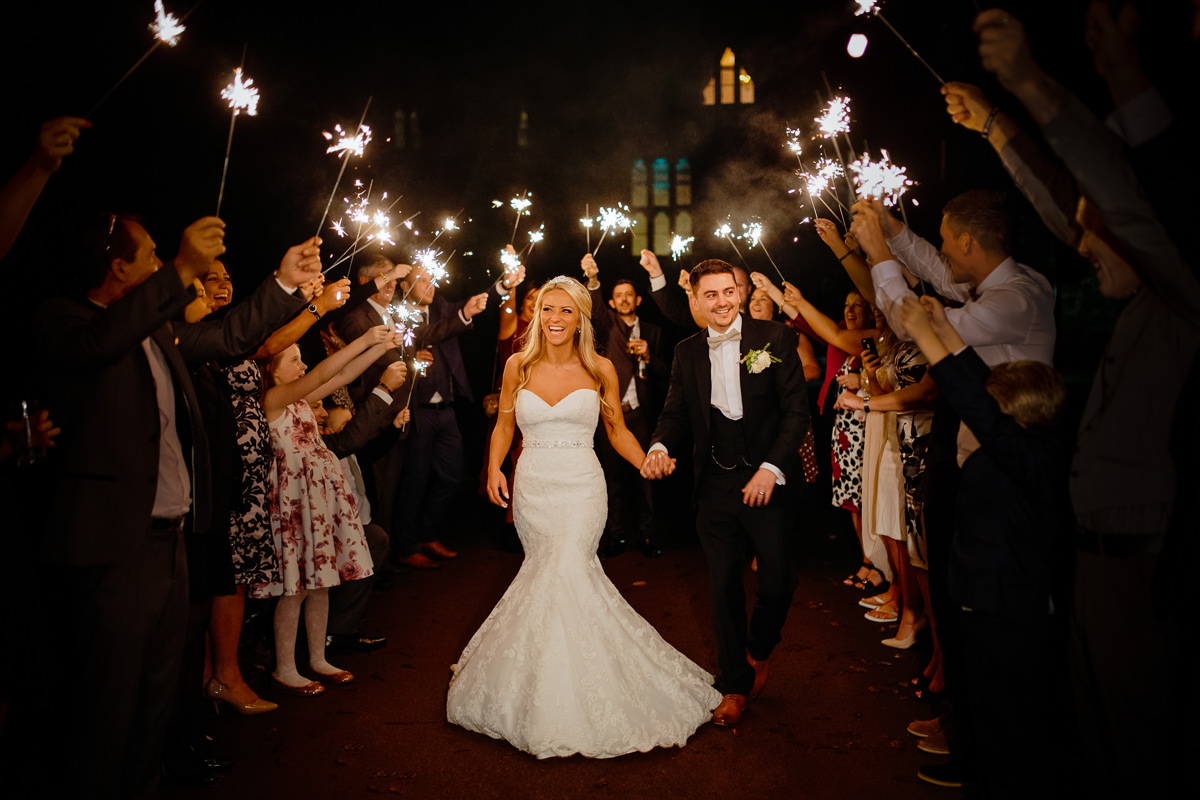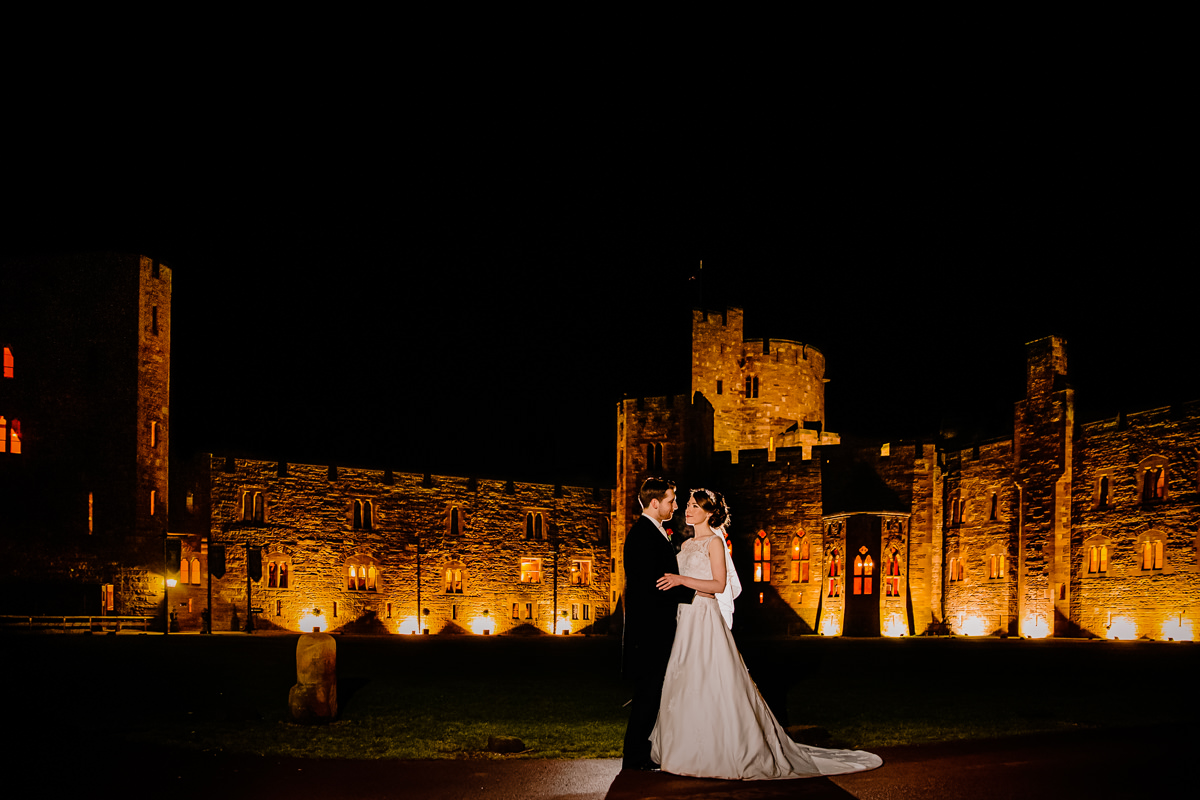 The team at Peckforton Castle always only allow one wedding a day so that they can ensure they give you their full attention. For larger weddings, you can also enjoy exclusive use – your own private castle. They can host weddings from 10 guests right through to 160 guests and have five licensed rooms to choose from to hold your ceremony, blessing, reception or wedding breakfast.
The Drawing Room
The largest of these rooms is The Drawing Room. As you enter through the impressive mahogany doors, you are met with an unashamedly romantic room with lavish chandeliers, velvet red drapes, large feature windows that flood the room with light and exquisite tapestries on the walls. Unlike many grand rooms, The Drawing Room has a warmth and glow about it that is perfect for your wedding ceremony or wedding breakfast. It has a capacity of 160 guests.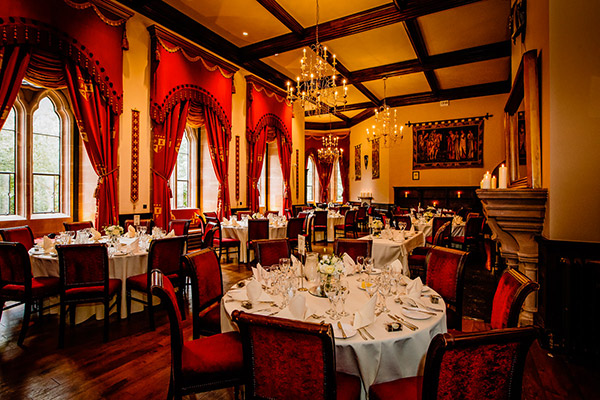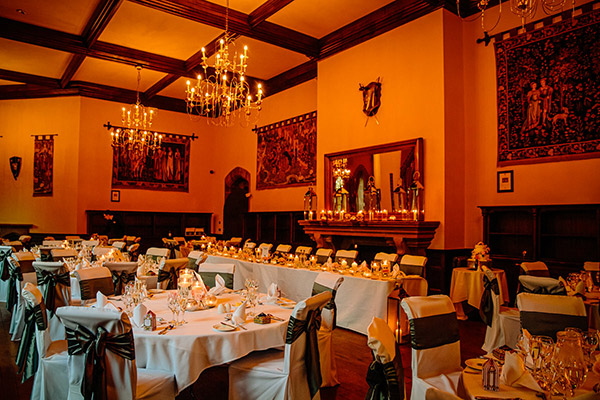 the Great Hall
If all-out grandeur is what you're looking for, then take a look at The Great Hall. Beautiful stained-glass windows that throw light around the space. A gorgeous minstrel's gallery gives you the perfect area for a string quartet. Add to that a dramatic 10m-high vaulted ceiling, Victorian open fire, tapestries, candles, an original statement tiled floor and a balcony, which offers amazing photo opportunities for wedding photographers like us. It seats up to 165 guests for a ceremony and looks just as good whether left in its original state or dressed beautifully with flowers and candles. The Great Hall is the perfect room for a lavish ceremony, a statement wedding breakfast and an incredible space for your first dance and party in the evening.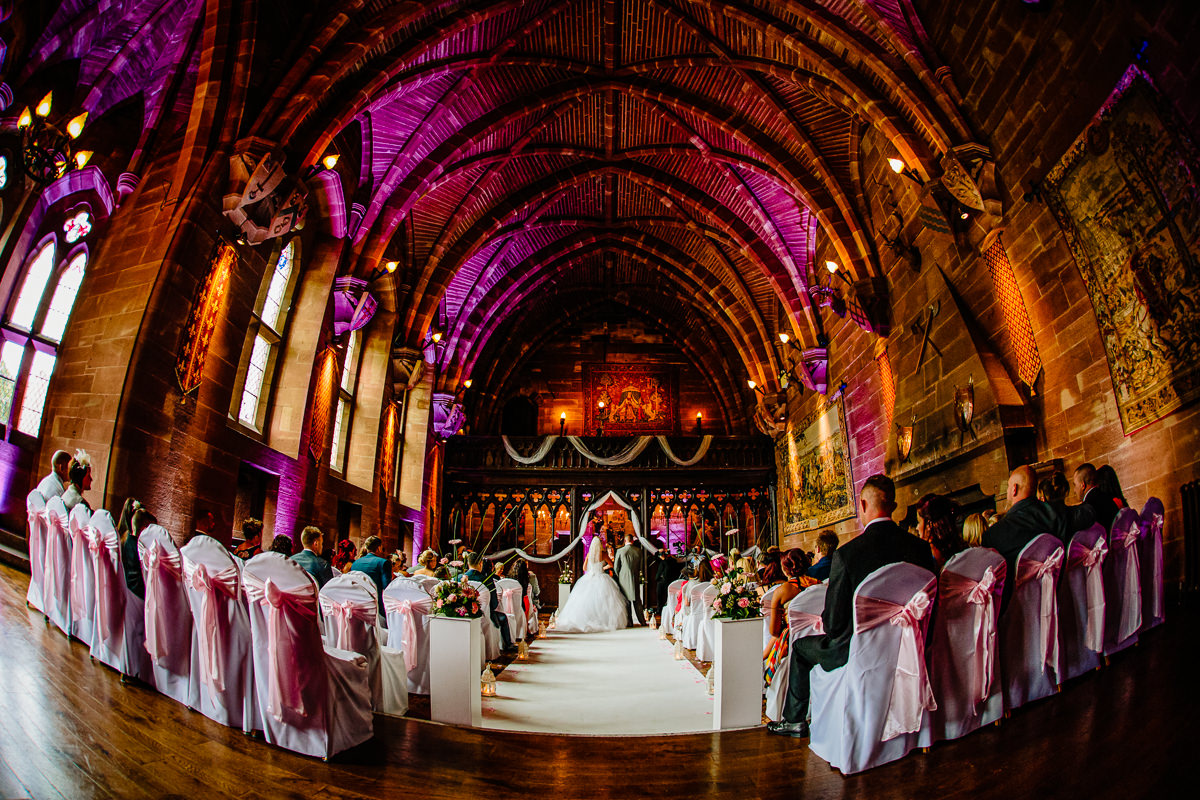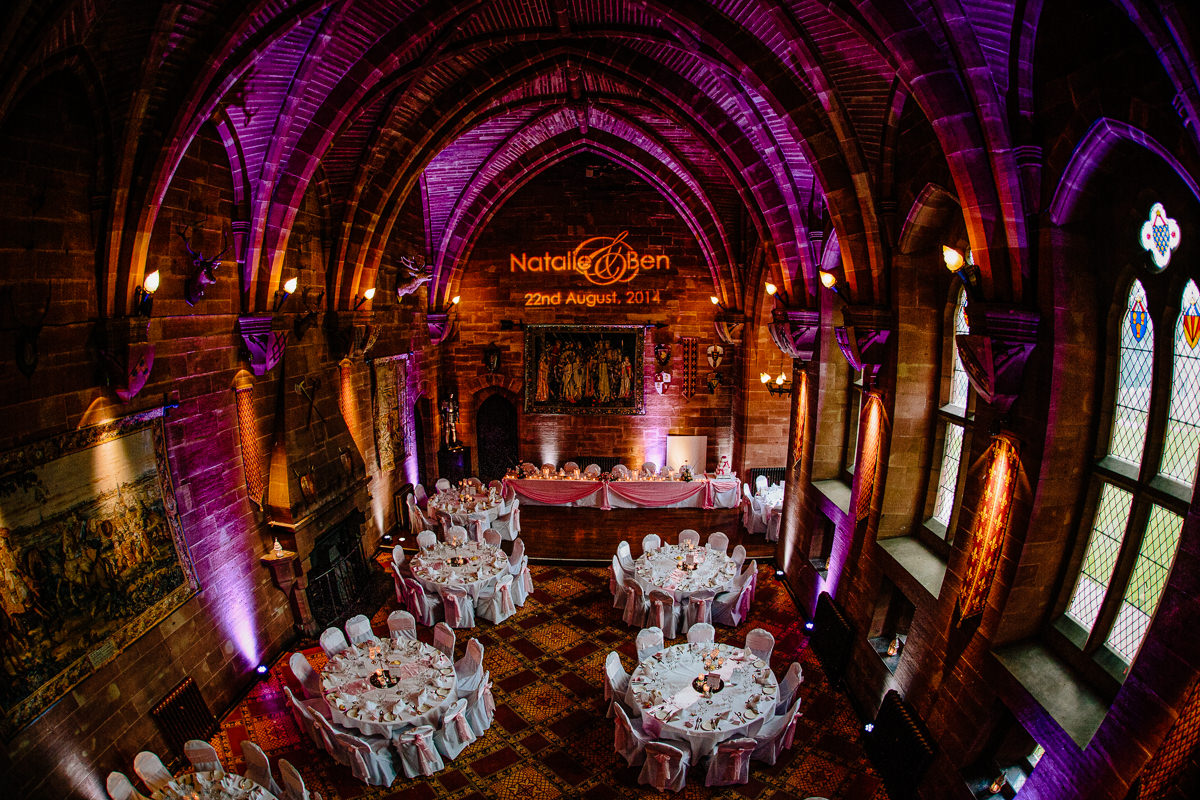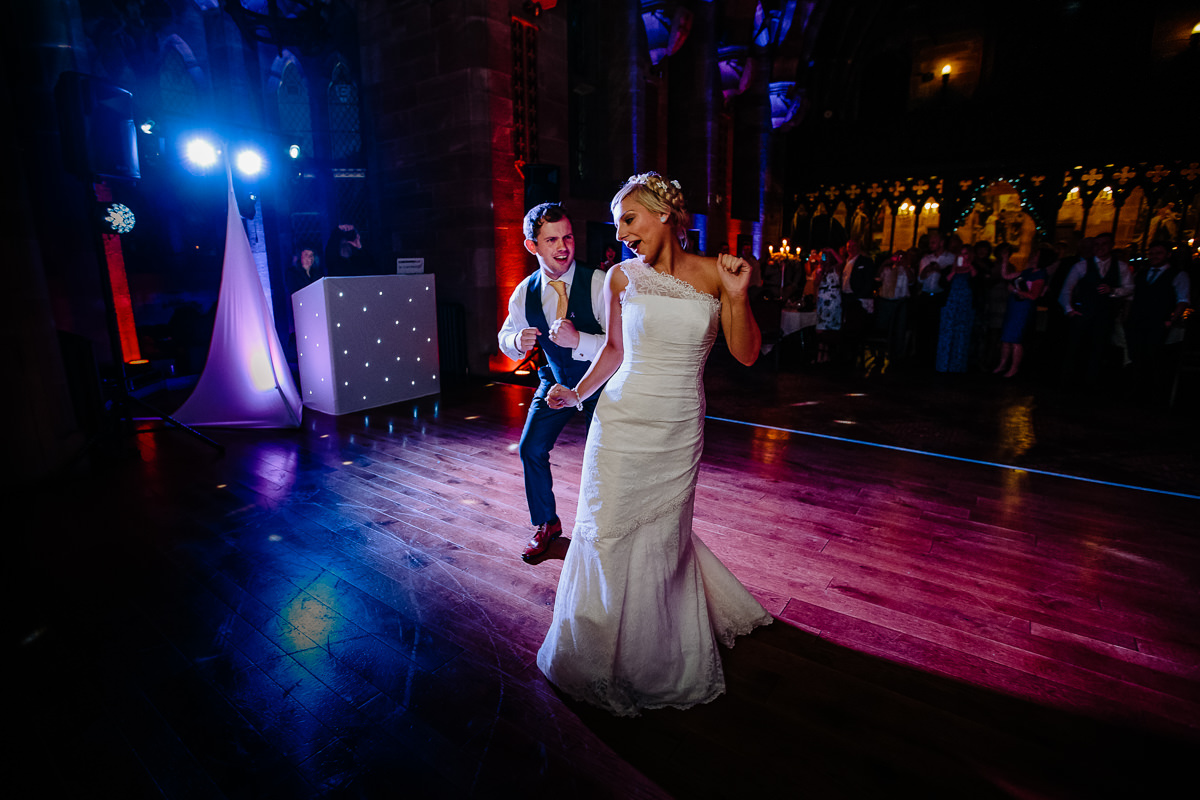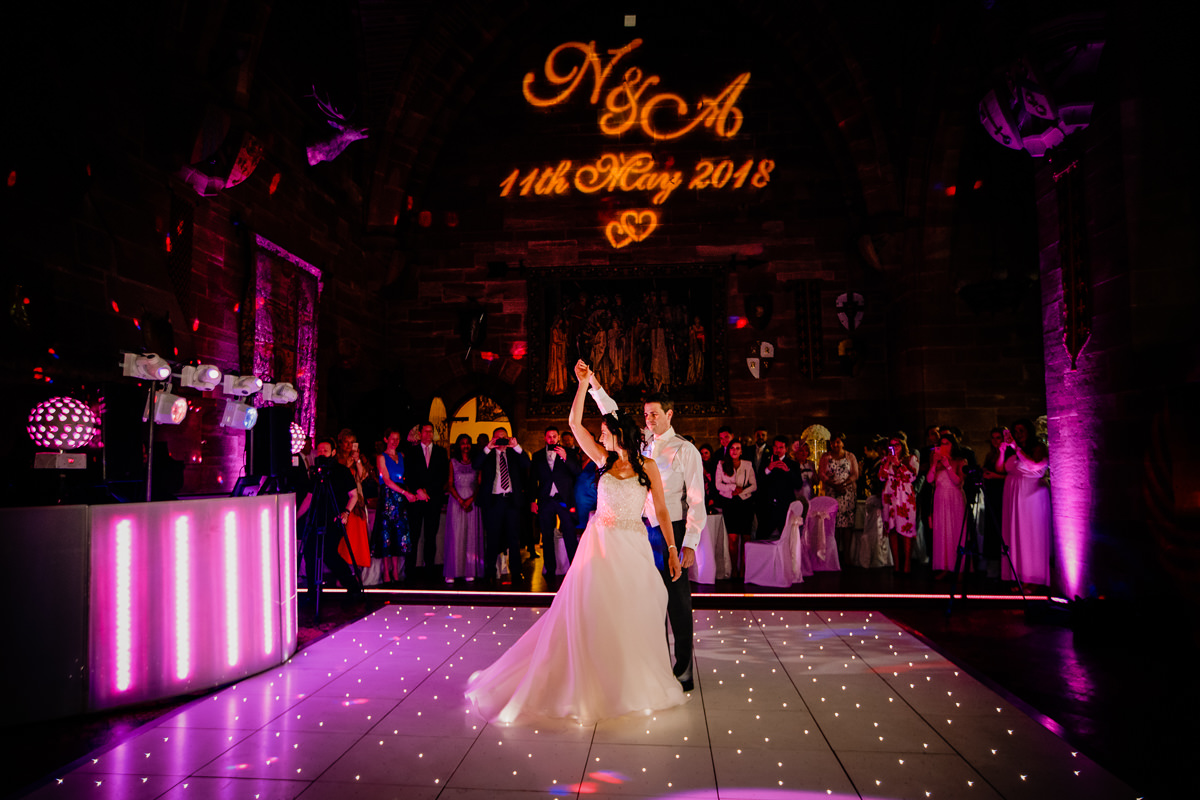 The Hexagonal room
The Hexagonal Room is architecturally a uniquely shaped and styled room and holds 100 guests. This decadent space has two feature fireplaces bringing a wonderfully warm glow to the atmosphere as the fire quietly crackles in the background as you say your vows. The 19th century vaulted ceiling gives the room a majestic feel. Say your vows under a stone apex surrounded by flowers and flickering candlelight in an all-out romantic and breathtakingly photogenic setting.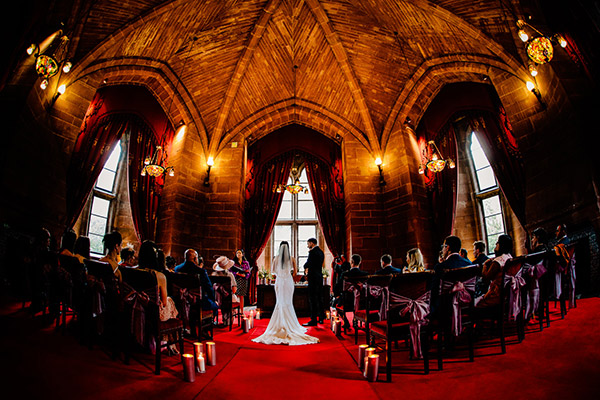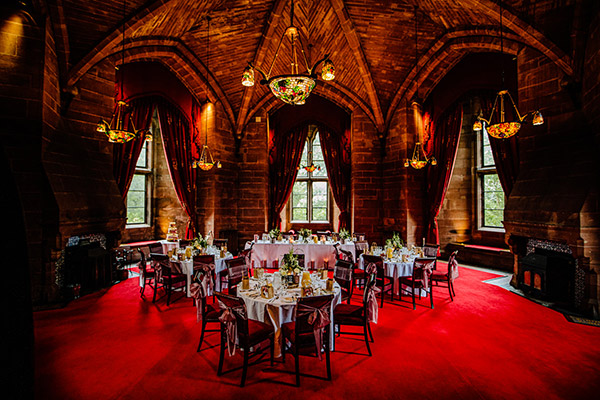 The Chapel
For more traditional blessings, the Chapel is perfect. Built in 1851, inside the fortified grounds of the castle. The Grade II chapel is historically rich, cosy and atmospheric and ideal for more religious ceremonies or renewal of vows. This chapel can be decorated with flowers and candles, and a harpist can accompany you as you walk down the aisle before saying your vows under the stunning gothic-style arches. Guests sit on authentic oak choir stalls and benches. The Chapel exudes charm and character and has the capacity for up to 100 guests.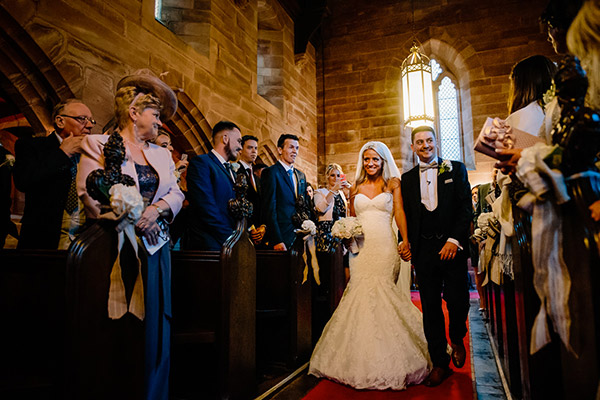 Your Drinks Reception at Peckforton Castle
There are multiple options available depending on your preference and, of course, the great British weather. You can either mingle with your guests on the manicured lawn in front of the Castle. The Coach House is a wonderful location for reception drinks and photographs. If the weather does take a turn for the worse, then enjoy your canapés and drinks in the comfort of Peckforton's Castle's Long Gallery with its very own bar.
The Wine Cellar
This is one of Peckforton Castle's best-kept secrets! The Wine Cellar, a spectacular unique circular bar built into the castle's crypt and lit only by candles. For a truly unique, intimate wedding ceremony, its elegant and rustic grey stonework walls and unique circular space with a candlelit bar is so atmospheric and romantic. It has a capacity for 40 guests for a ceremony and 80 for a drink's reception. This is a unique romantic space and is perfect for creative photographs. And after the party the picture-perfect place where you and your guests can relax and relive your wonderful wedding day.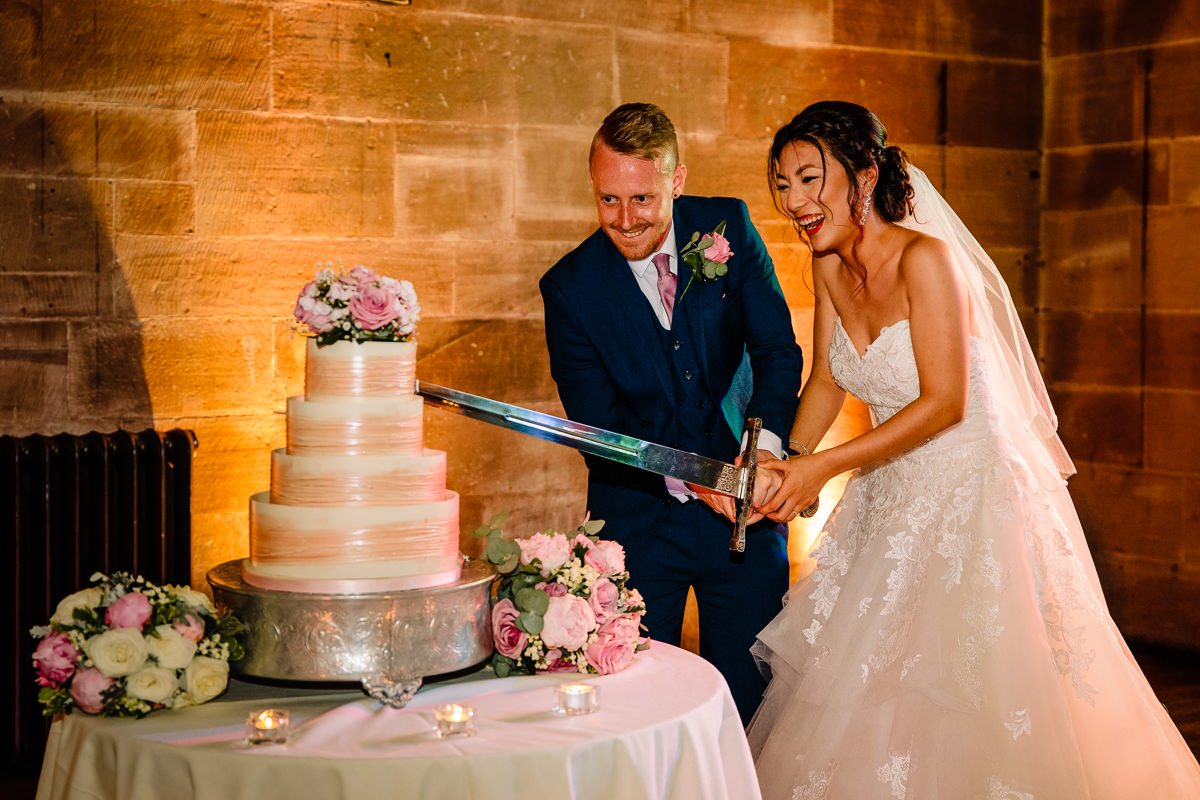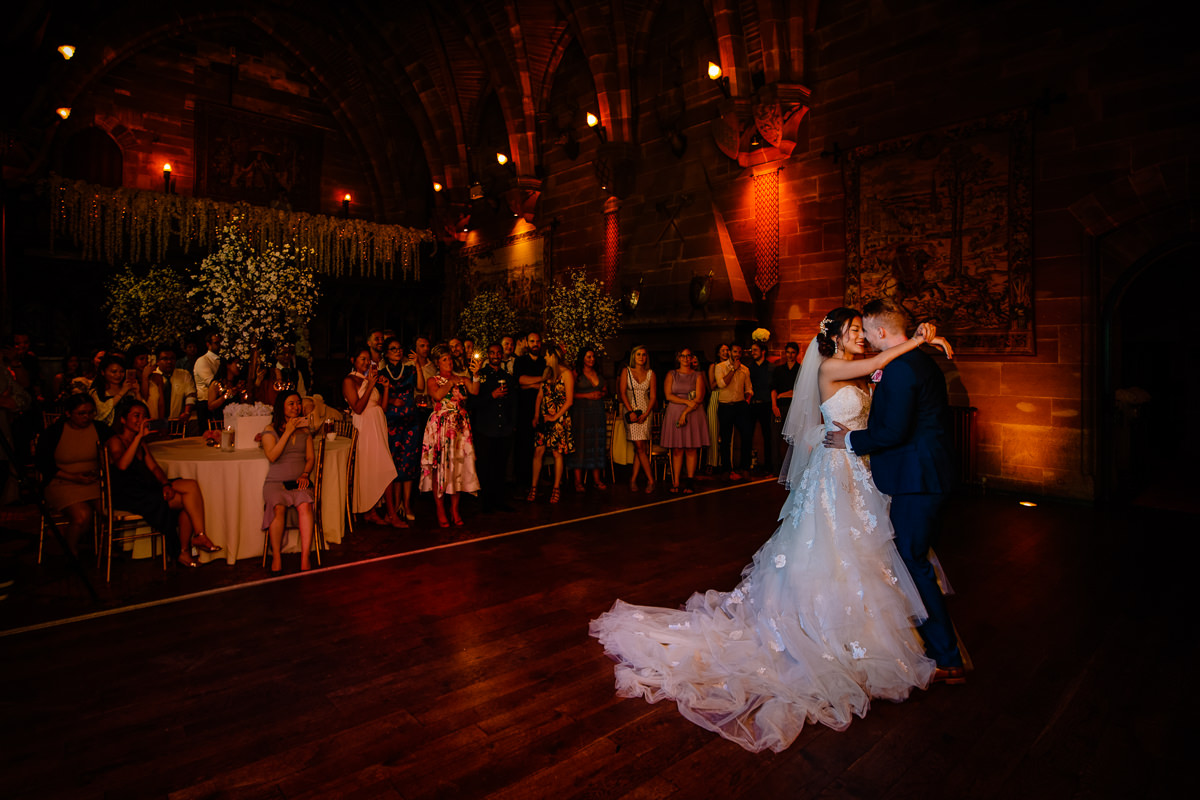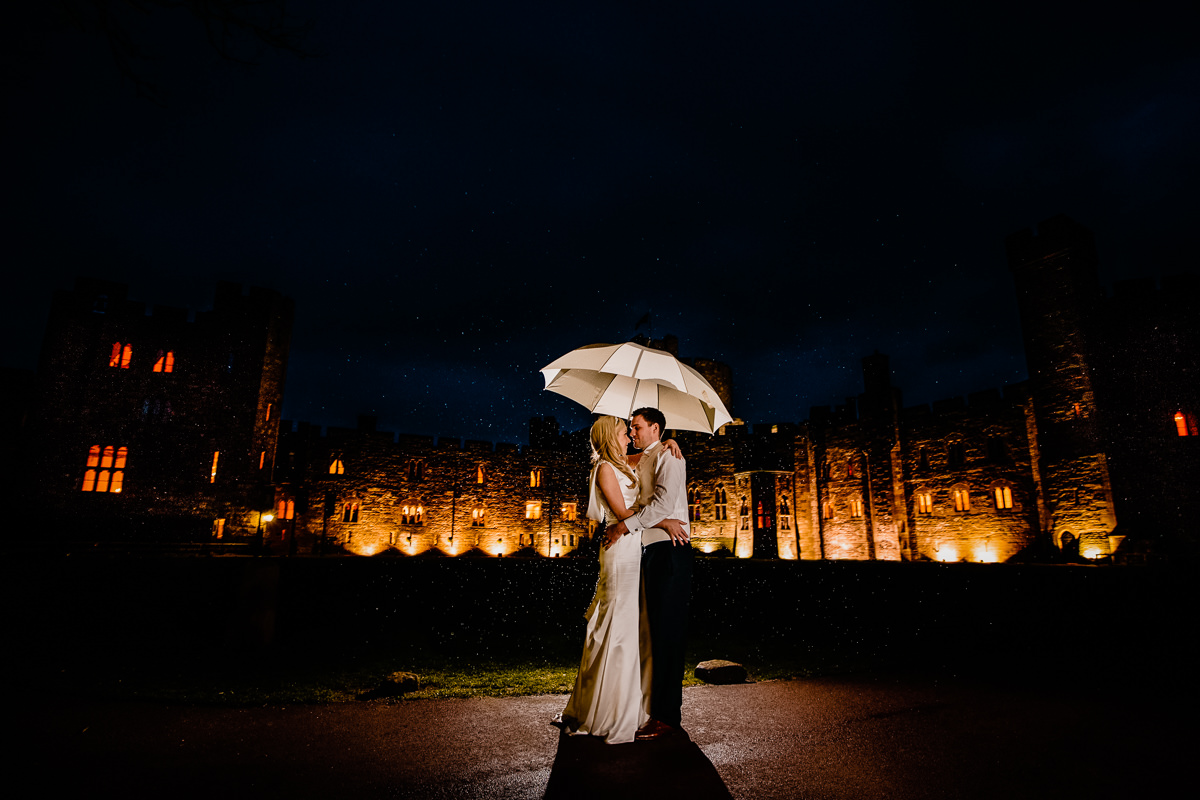 Featured Weddings at Peckforton Castle
Accommodation at Peckforton Castle
When it comes to overnight accommodation options, Peckforton Castle has 48 luxurious guest rooms from the ground floor to the top of the castle turret, ranging from singles right through to suites. Each individually designed with comfort and style blends classic and contemporary décor seamlessly and many with four-poster beds. Add to this a beautiful honeymoon/bridal suite and the self-contained The Lodge, which can accommodate a party of up to 11 people.
Restaurants at Peckforton Castle
Peckforton Castle offers two on-site restaurants.  The award-winning "1851 restaurant" offering classical French and modern British cuisine. Alternatively, the more relaxed and contemporary "2010 brasserie" extensive menu offers a choice of more classic meals, including traditional Sunday lunch.  Another popular option in the "2010 Brassiere" is their incredible afternoon teas, including classic afternoon tea, indulgent afternoon tea, or Cream Teas.
Hotels near Peckforton Castle
For guests looking to build a holiday around your wedding. There are a host of holiday lets and Air BnB properties in the nearby villages of Bunbury and Tarporley. The vibrant and historic city of Chester is just 11 miles away.
Directions to Peckforton Castle
Peckforton Castle
Peckforton Castle is located south-east of Beeston and north of Peckforton village, tucked away in picturesque woodland right in the heart of Cheshire. The full address is:
Peckforton Castle
Stone House Lane
Peckforton
Tarporley
Cheshire
CW6 9TN
Celebrity Weddings at Peckforton Castle
Peckforton Castle is the idyllic wedding venue, and so it is bound to attract the odd celebrity or two. Included in the impressive list of celebrities that have married or have been guests at this incredible wedding venue include:
US stars Ciara and Russell Wilson chose to host their fairy-tale wedding at Cheshire's Peckforton Castle. Beyonce, Kelly Rowland and Jennifer Hudson were among the American celebrities rumoured to have attended. Closer to home, England footballer Jamie Vardy married his wife Rebekah here. Other footballers who have married at Peckforton Castle include Rio Ferdinand, Phil Bardsley, Fabrice Muamba, Wes Brown and Alan Smith.
Peckforton Castle on the TV
Over the years, the Castle has been the location for numerous movies. Including Robin Hood, Sherlock Holmes, Dr Who, and Coronation Street. You may also know Peckforton Castle from the television show Real Housewives of Cheshire.
Other things to do at Peckforton Castle
During your wedding, there are options to have Falcon displays for your guests. If either yourselves or your guests decide to stay on after your wedding day; or even visit on an anniversary, then Peckforton Castle also offers many outdoor activities. Including their incredible Land Rover Experience, a 500-acre adventure in the rolling Cheshire Plains around Peckforton Castle.
So, if a fairy-tale castle wedding in the Cheshire countryside is for you, then Peckforton Castle will take some beating. But don't just take our word for it. The most fun thing about planning a wedding is that you get to visit beautiful venues in stunning locations. So, go on, take a look!
And when you've found that perfect Cheshire wedding venue, you'll be looking for the perfect Cheshire wedding photographers.
Feel free to give us a shout. We'd love to hear about your wedding plans.
Have a look at our FAQ for more information and how we work by looking at our style page. You can also find out more about us here.