About Steve & Sandra
We are Steve and Sandra, very happily married wedding photographers who love everything about weddings and photography. We have been photographing weddings together for over 12 years now, so you can be assured we have lots of experience between us. Having photographed in all seasons in all different weather conditions, we know how to ensure nothing gets in the way of making sure every moment is captured, and you get the wedding photographs you dreamt of.
A little about Steve
I have always been into photography as far back as I can remember. Loving gadgets and I love to push myself with new techniques and enjoy a challenge. Some may also consider me the technical one (read the geeky one) with all the latest and greatest camera equipment. When not photographing weddings or portraits, I can often be found sitting in front of my dual-screen Mac editing the wonderful images that myself and Sandra have just taken ready for proofing. Oh, and I also love coffee, which comes in really handy for those late-night editing sessions.
A little about Sandra
I love taking photos, and even as a child, was often seen with an old camera with me wherever I went. I'm also the emotional one, often being swept along with all of the wedding day's wonderful emotions. I love to help at weddings and when not busy with the camera can often be found helping with the bride's dress, putting on the buttonholes for the boys and generally being a good egg! Oh, and of course I design all of our wonderful albums as well!
Us together
It sounds cheesy, but we do love each others company – we are very rarely apart. We love holidays (who doesn't!), love Scotland completely, enjoy walking, driving holidays, and although we don't have any professional photos of ourselves (we must sort that out!) as you can see, we do take the occasional selfie wherever we go!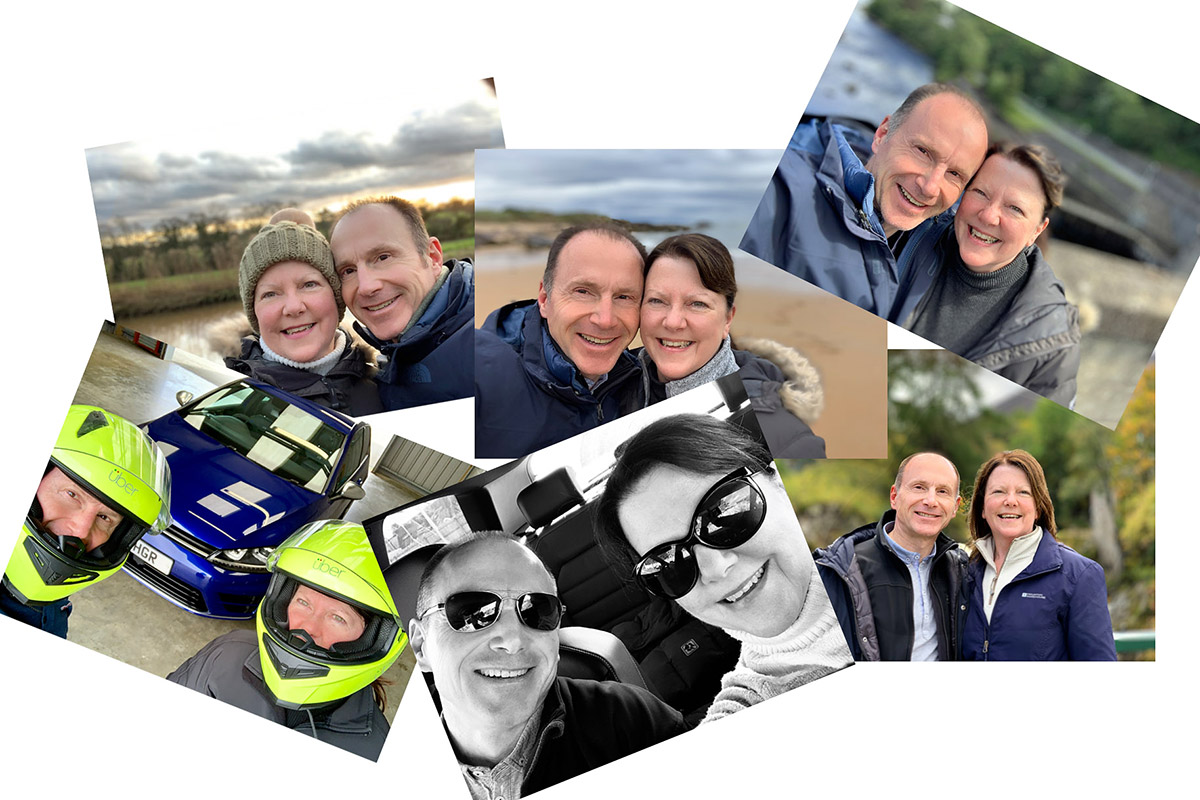 "Steve & Sandra were not only professional but funny, charming, and a joy to work with"
A little bit more
In 2013, I (Steve) was proud to be awarded my Associateship (ASWPP) with the Society of Wedding and Portrait Photographers. An accolade that is held by less than 10% of UK wedding photographers. We are also proud to have been shortlisted in the Wedding Industry Awards for the North West region and have been awarded the Certificate of Excellence Platinum award twice for outstanding customer service from Bridebook. Also in 2020, we were a finalist in the County Brides North West Wedding Awards.
We genuinely care about every couple whose wedding we photograph, and we hope this shows in our images. But don't just take our word for it; see some of the wonderful testimonials our amazing couples send to us.
We absolutely love the buzz and excitement that you get when you photograph a wedding. Because of this, there is no more incredible privilege to provide those memories that will last a lifetime. Why not take a look at our photography style. And if you like what you see, then we would love for you to get in touch and allow us to tell the story of your wedding day.
Wedding Awards, Recognition and Memberships