Rowton Hall in Cheshire is a stunning wedding venue and as wedding photographers in Cheshire, it has to be one of our favourite wedding venues to capture a couples special day.
We first met Bryan and Zoe back in October 2012 when they chose us to capture their wedding for them both at Rowton Hall and we were delighted to be part of their special day.  From that first meeting until the day of the wedding we knew it was going to be a great day.
Bryan and Zoe were holding both their Civil Ceremony and their wedding reception at Rowton Hall, so we arrived nice and early to ensure that we captured all the details in the ceremony room and around the venue itself.  After which we then went to join the boys for the Groom preparations.


Bryan, his Dad and brother, also one of the Best Men, John had just started to get ready when we arrived which was a great opportunity for us to capture some cool shots before heading off to Zoe and the girls.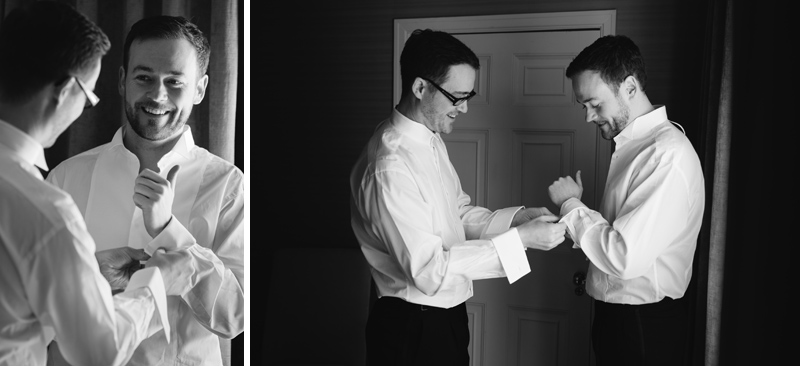 When we arrived with Zoe, the girls were having their hair and makeup done.  Zoe was accompanied by her 2 bridesmaids, flower Girl and her Mum who were all in good spirits and seemed remarkably calm.   Zoe's dress was stunning and extremely elegant and we knew she would take Bryan's breath away when he saw her walk down the aisle.
To give Zoe a little time on her own with the girls before she got into her dress, we went back to join Bryan and the boys for the more formal Groom shots at the front of the hall.  Bryan was accompanied by both dads and the remaining Groomsmen.
We ensured we were back with Zoe in plenty of time to capture the final stages of her getting ready prior to her Dad seeing her for the first time in her dress; it was a really moving moment and you could see how proud he was.
We captured some stunning bridal portraits before Zoe made her way to the ceremony room to be walked down the aisle by her Dad.
This is one of our favourites.
Zoe, her Dad and bridesmaids made their way to the ceremony room where an eagerly waiting groom stood watching his bride to be make her way down the aisle  soon to become his wife.
and not forgetting the paparazzi even though the excitement of the day was just too much for one little one 🙂
Ceremony over, time to enjoy the drinks reception and an opportunity to chat to their guests and to enjoy the rest of proceedings.
Time for the group shots and then we had the pleasure of taking Bryan and Zoe's Bride and Groom portraits in and around this beautiful venue.
The Bride & Groom portraits:
It was now time for the wedding breakfast to start and the team at Rowton Hall had done an amazing job – the room looked beautiful. Before the happy couple's guests were invited to be seated, we took Bryan and Zoe to see the room for the first time once it had been prepared for their wedding breakfast and also to capture a staged cake cut before they cut it for real in the evening.
Time for the speeches which had everyone laughing …
After the speeches concluded everyone retired for a short time while the staff at Rowton Hall changed the room round for the evening reception.  Bryan and Zoe took to the floor and did an amazing first dance after which they were joined on the dance floor by their family and friends and the party began.
It was a fantastic day and Bryan and Zoe are an amazing couple – it really was our pleasure to be able to capture their special day for them and we hope you enjoyed reading this blog post and viewing the images.
If you are considering holding your wedding / civil ceremony or your wedding reception at Rowton Hall then please do contact us – we would love the opportunity to discuss your wedding photography requirements with you both in more detail.